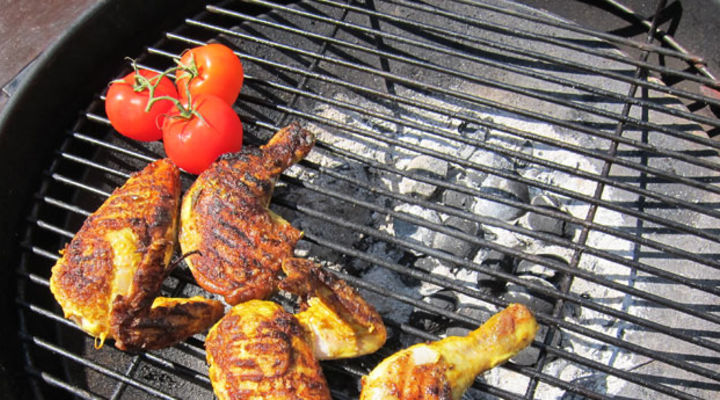 1

-

SuperValu Fresh Chicken Fillets

Portioned

0

-

SuperValu Fresh Coriander

Chopped to serve

1

tbsp

SuperValu Fresh Ginger

Minced

3

cloves

SuperValu Garlic

finely diced

1

-

SuperValu Lemon

juiced

0

-

SuperValu Salt

to season
Method
To make the marinade firstly pour the yogurt into a bowl, then add the garlic, ginger, turmeric, coriander, cumin and garam masala. Stir to combine then add a good squeeze of lemon juice, a pinch of salt and a grinding of black pepper. Give the mixture a good stir then add the chicken pieces, turn in the mixture to coat.
If you are using a gas barbecue, light two burners, one on a high heat and one on a lower heat. Alternatively if using a charcoal barbecue, cover two-thirds to the base with charcoal and leave one third clear. Place the chicken, skin side down onto the grill over the direct heat, and cook for 4 – 5 minutes, covered. If flare ups do occur move the chicken to the cooler part of the grill, then return to the heat once it has burned off. Turn the chicken and cook for a further 4 – 5 minutes, then remove to the indirect heat until cooked through, this may take a further 10 – 15 minutes.
Serve immediately drizzled with some lemon juice and sprinkled with some chopped coriander.
Be the first to add a review.