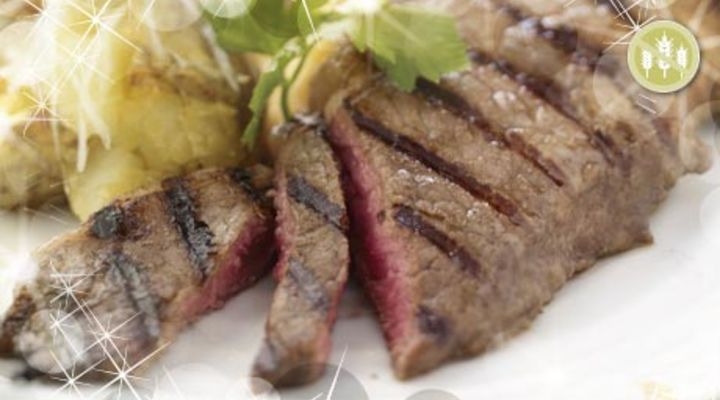 500

g

SuperValu Baby Potatoes

1

tbsp

SuperValu Fresh Parsley Flat Leaf

chopped

1

tbsp

SuperValu Fresh Rosemary

chopped

1

clove

SuperValu Garlic

crushed

2

cloves

SuperValu Garlic

1

tbsp

SuperValu Parmesan Cheese Shavings

grated (optional)

4

-

SuperValu Quality Irish Beef Striploin

approx 180g each
Roasted Root Vegetables
2

-

Carrots

cut into chunks

1

-

SuperValu Butternut Squash

cut into chunks

0

-

SuperValu Fresh Parsley Flat Leaf

chopped to garnish

2

cloves

SuperValu Garlic

crushed

1

tbsp

SuperValu Olive Oil

1

medium

SuperValu Onion

thinly sliced

1

-

SuperValu Parsnip

cut into chunks
Method
Preheat the oven to 180°C/350°F/Gas Mark 4.
Place the carrots, parsnips, butternut squash and onions onto a large baking tray. Drizzle with oil and honey and season lightly with salt and pepper.
Roast for 30-35 minutes until the vegetable have softened and slightly caramelised - stir during the cooking process to ensure all vegetables are cooked through. Sprinkle with chopped parsley when cooked.
In the meantime, combine the garlic and ¾ of the balsamic vinegar in a bowl. Add the steak and place in the fridge for 30 minutes to marinate.
Place the potatoes into a saucepan of lightly salted boiling water, add the whole garlic cloves and cook for 18-20 minutes until softened.
Drain the potatoes and garlic, then crush the potatoes with a potato masher and set aside for a moment.
In a separate bowl, using a fork, gently mash the garlic.
Melt the butter in a small pan and add the mashed garlic and herbs.
Season with some salt and pepper.
Toss the crushed potatoes into an ovenproof dish and pour the garlic-and-herb butter over the potatoes.
Pop into the oven for 10-15 minutes until slightly crisp on top.
In the meantime, drizzle a little oil onto a griddle pan and add the steaks.
Cook for 2-3 minutes on each side (for medium), depending on thickness.
Remove from the heat and set aside to rest for 5 minutes.
To serve, place a steak on each plate with some crushed potatoes, drizzle the remaining balsamic vinegar over the steak and serve with some roasted root vegetables.
*Check Coeliac Society of Ireland Food List for gluten free brands.
Be the first to add a review.