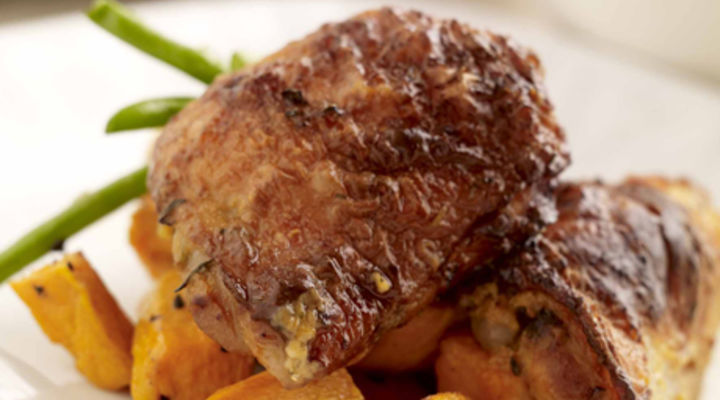 RECIPE OVERVIEW
This is a wonderfully fragrant option to have and the marinade transforms the chicken thighs into something very exciting.
Method
Preheat the oven to 180°C/350°F/Gas Mark 4.
Place the chicken thighs into a large bowl.
Mix 3 cloves of crushed garlic, tomato puree, dried mixed herbs, with the natural yogurt and the curry powder, pour in on top of the chicken thighs and mix well until all the chicken is coated in the fragrant marinade.
Then cover the bowl tightly with cling film and allow to marinade in the fridge for at least an hour but longer if time allows.
After the chicken has marinated sufficiently line a flat baking tray with a little baking parchment paper.
Place the chicken onto the baking tray and roast in the oven for 40-50 minutes until the skin of the chicken is crispy and the chicken is cooked through.
Roasted Sweet Potatoes
Line a separate flat baking tray with parchment paper.
Place the potatoes onto the baking tray, season lightly with salt and pepper and then drizzle with the olive oil.
About 30 minutes before the chicken is cooked place the sweet potatoes in to the oven and allow them to roast also.
Buttered Green Beans
Meanwhile heat a large pan with a little butter.
Add in the diced onion and remaining garlic and cook gently until softened.
Add in the green beans, increase the heat slightly and cook for a further 3-4 minutes.
Serve immediately with the marinated chicken and the roasted sweet potatoes.
Be the first to add a review.