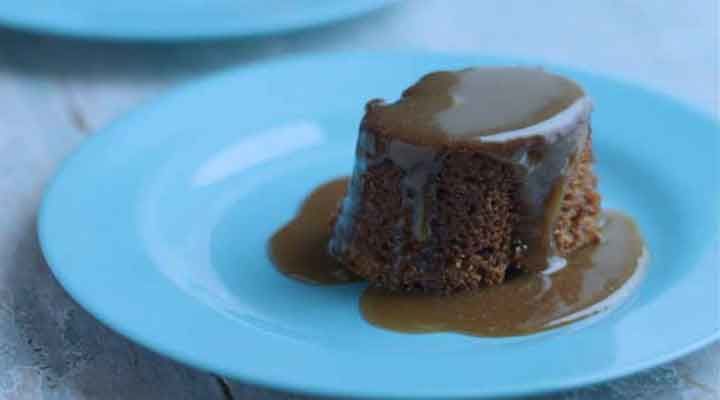 RECIPE OVERVIEW
Sticky Toffee Pudding is a cross between a pudding and a cake. It's sweet, sticky and moist and served with a generous serving of toffee sauce. An absolute family favourite that never fails to please.
300

g

SuperValu Goodness Pitted Dates
For the toffee sauce
220

g

SuperValu Brown Sugar
Method
Preheat the oven to 160⁰C/325⁰F/Gas Mark 3.

Place the dates and water into a large saucepan and bring to the boil. Add the bread soda and allow to simmer for 3 - 5 minutes. Remove from the heat and allow cooling.  

Using a hand blender or food processor, blitz until a coarse sticky consistency is achieved. Set aside to cool.

In the meantime, in a bowl, beat together the butter and sugar until light and fluffy. Add the eggs and sieve in the flour and baking powder. Continue to mix until smooth. Pour in the milk and add the vanilla essence and spices. Add in the cooled date mixture and combine well.

Pour into greased individual cake tins. Bake in the preheated oven for 20 minutes. Remove the sticky toffee cake from the oven, and let stand in the tin for 2 minutes, then, remove from the tin and place on a wire rack to cool. 

Warm the sticky toffee cake before serving and drench in butterscotch sauce. 
Toffee Sauce
Melt the butter in a large saucepan, over a medium/ low heat and then add in the brown sugar.Allow this mixture to come to the boil and cook for about 2 -3 minutes until the sugar has an intense caramel colour and flavour. Be careful to not burn the caramel!

Pour in the pouring cream and whisk continuously. The mixture will clog a little but do not panic.

Allow the mixture to come to a boil and then reduce to a gentle simmer. Cook for 2 -4 minutes.

Pour over the sticky toffee puddings once they are removed from the oven. 
Be the first to add a review.