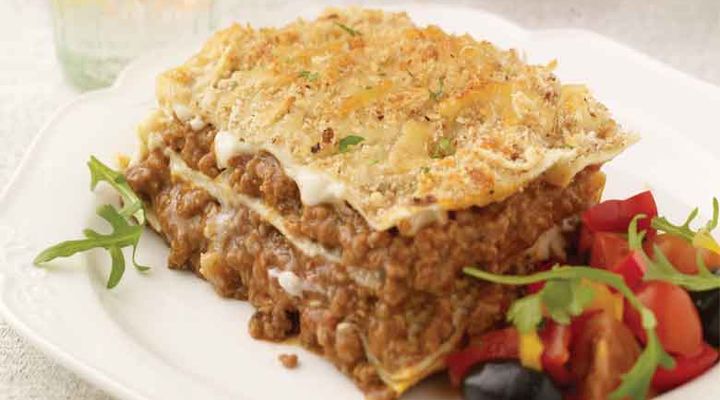 RECIPE OVERVIEW
Layers of meaty sauce with cheese and béchamel sauce, topped with more glorious cheese – it is little wonder that lasagne is a real family favourite. The lasagne sheets do not need precooking. 
1

tsp

SuperValu Dried Mixed Herbs

300

g

SuperValu Medium Red Cheddar Grated 200g
For the beef ragu
1

stick

Celery

finely chopped

1

-

SuperValu Carrot

finely chopped

2

cloves

SuperValu Garlic

crushed

1

-

SuperValu Onion

finely chopped

750

g

SuperValu Quality Irish Round Steak Mince

400

g

SuperValu Tomato

sauce

20

g

SuperValu Tomato Purée
Method
Heat a little oil in a large frying pan and sauté the carrot, celery, onion and garlic for 3–5 minutes, until cooked but not completely soft.
Add the minced beef, mix thoroughly and cook until it is browned.
Stir in the tomato purée, red wine and stock and cook gently, uncovered, for 2 minutes.
Add the tomato sauce and herbs and cook for 10–15 minutes, until most of the liquid has reduced. Season with salt and pepper to taste.
Preheat the oven to 180°C/350°F/gas mark 4.
Place a layer of the meat sauce in the bottom of a 25 x 18cm (10 x 8 inch) baking dish.
Add a layer of the pasta, a layer of béchamel and sprinkle with some of the grated cheese.
Repeat these layers, finishing with béchamel and grated cheese.
Bake for 35–40 minutes, until bubbling hot.
Serve with a crisp green salad and garlic bread.
Tip: Try adding 100g (1⁄2 cup) ricotta cheese to the basic béchamel for a richer flavour.