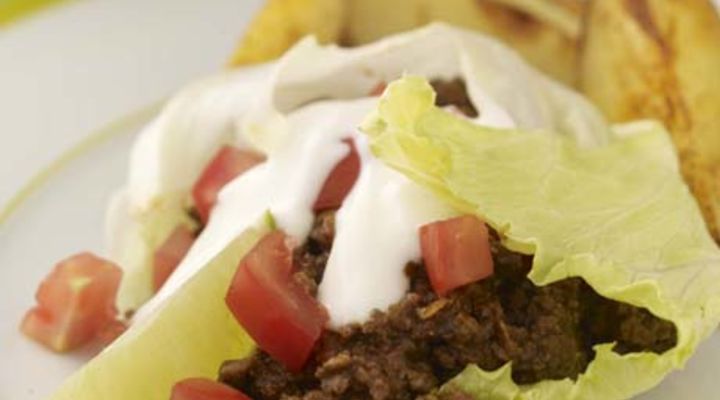 RECIPE OVERVIEW
Although this may take a little time to assemble it is definitely well worth the effort. I love to serve this (all on one large plate) as a 'help yourself' main course.
Method
Heat a large, wide based deep pan with a little olive oil and add the diced chilli, onion, ginger and garlic and sauté gently for 3-4 minutes until softened.
Next add in the minced beef and continue to cook, stirring occasionally until the beef is browned all over.
Season lightly with a little salt and pepper.
Add in the chilli powder, curry powder and soy sauce and reduce the heat to a very gentle simmer.
Cover the pan with a tightly fitting lid and continue to cook for 15-18 minutes, stirring occasionally.
Add in the chopped coriander.
Wash and dry the lettuce leaves and drain on a clean dry cloth.
Arrange the lettuce leaves on a large serving platter and fill with some of the chilli beef mixture.
Garnish with the diced tomato and natural yogurt.
Crispy Chilli Potato wedges
Pre-heat oven to 190°C/375°F/ Gas Mark 5.
Place the potato wedges in a large bowl, drizzle with the oil, add the chilli powder and season with a little salt and pepper.
Mix together ensuring the potatoes are well coated and place on a baking tray lined with parchment. Bake for 35-40 minutes until crispy and well cooked through to the centre.
Top Tip
Leftover meat mix can be mixed into some hot pasta the next day to make a tasty pasta meal or alternatively can be piled high onto a baked potato with some yoghurt or crème fraiche for a healthy lunch.
Be the first to add a review.