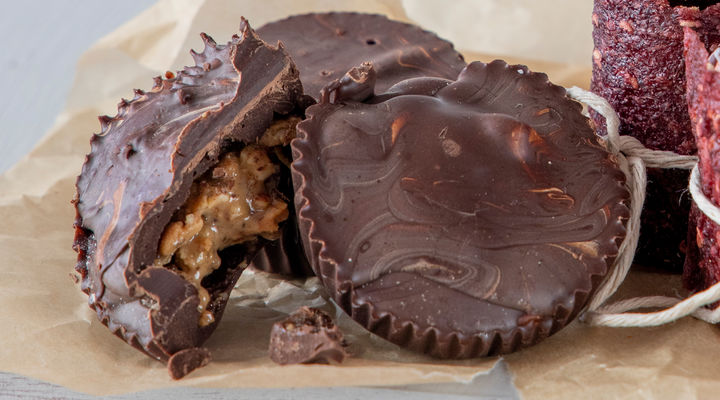 RECIPE OVERVIEW
Clare Anne O'Keffe's Almond Butter-Choc Cups are the perfect snack for those long car journeys.
1

portion

Cocoa Nibs

to decorate, optional

150

g

Dark Chocolate

roughly chopped

100

g

Milk Chocolate

roughly chopped

100

g

Smooth Almond Butter

2

tbsp

SuperValu Goodness Seed Mix

1

tbsp

SuperValu Icing Sugar
Method
1. Line a baking tray with parchment paper. Line a 12-cup
muffin tin with paper or silicone cupcake cases.
2. In a small bowl, beat the almond butter, seeds, icing sugar,
honey, vanilla extract and salt to combine.
3. Roll the mixture into 12 equalsized balls (about 12g each).
Flatten each ball a little to a diameter that's slightly smaller
than your muffin cases and freeze on the lined baking tray for 10 to 15 minutes while you prepare the chocolate.
4. Put the chocolate in a food processor. Blend until you get a mixture that resembles fine breadcrumbs. Scrape down the
sides and bottom of the food processor with a spatula. Blend
again until the chocolate clumps up into a ball, then break it up using your hands.
5. Blend again until you get a thick texture, like ganache. Scrape down the sides and bottom of the food processor. Keep blending until you get smooth, fluid chocolate. This may take 5 to 8 minutes.
6. Spoon 1 teaspoon of melted chocolate into the bottom of each cupcake case, swirling each one gently to ensure the chocolate reaches the edges.
7. Remove the almond butter discs from the freezer. Place one in each cupcake case, on top of the chocolate. 
8. Divide the remaining melted chocolate between the cases,
about 2 teaspoons in each. Tap the tin so that the chocolate
settles in an even layer. Sprinkle with cocoa nibs, if using, then
leave to cool and harden at room temperature.
8. The cups will keep in an airtight container in the fridge for two weeks. Almond butter-choc cups made with tempered chocolate can be kept out of the fridge.
Be the first to add a review.