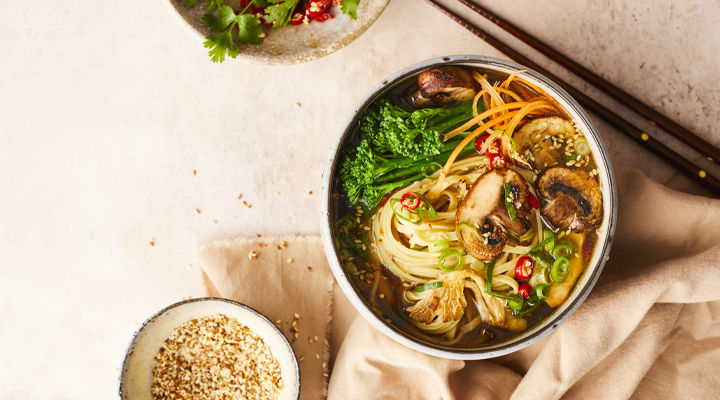 Optional Toppings
200

g

Tenderstem Broccoli
Method
To prepare the broth, put the vegetable stock, 2 1/2 tablespoons of the tamari and the miso together in a pan and bring to the boil.
Chop the mushrooms into bite-sized pieces. Put a frying pan on high heat. Once hot, add 1 teaspoon of oil along with the mushrooms
and cook for 3-4 minutes, stirring regularly.
Mix the remaining three tablespoons of tamari and the 3 tablespoons of water in a bowl and add to the mushrooms. Cook for two minutes or until most of the sauce is absorbed.
Once your broth is boiling, reduce to a simmer and add the noodles. Cook as per the instructions on the packet.
In the meantime, start preparing the toppings: Deseed and chop the red chilli and scallions. Using a peeler, peel long strips of carrot and boil the broccoli until tender.
Once the noodles are cooked, divide them between four deep bowls. Ladle out the broth pouring equal amounts into each bowl, so that the noodles are just covered.
Now, layer your ramen with the toppings: tenderstem broccoli and carrot strips on the side of each bowl, topped with the chopped scallions and chilli.
Finally, add the mushrooms right in the centre, sprinkle with some sesame seeds and serve.
Be the first to add a review.