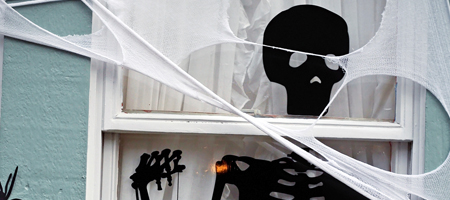 Now here is a fiendishly simple way to make your house look extra scary on Halloween night. At first glance it'll seem like a scene from your favourite scary movie!
All you will need is
some black paper
a pencil
black tape or sellotape
a scissors
Method
1. Draw the pattern you want on the black paper. It might be a silhouette of someone standing in a window or your favourite ghostly character such as a witch or a monster.
2. If you aren't the best at drawing then print a blown up image and then trace it. You can transfer the tracing onto the paper by reversing the tracing paper and going over the outline with a thick pencil.
3. Next, simply make the tape into a little loop so it is double sided. Attach the silhouette to the window and put a lamp near it.
4. Hey presto – ghoulish figures are roaming your house.