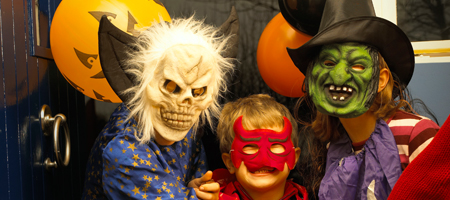 These masks are really simple and quick to make and you can choose from all sorts of Halloween faces!
Things you will need:
Some paper plates
Some cardboard
Some markers, crayons or paint
A scissors
A hole punch
A stapler
Some green string or elastic
What to do:
Draw a face on the back of the paper plate. For a pumpkin paint the plate orange. Draw circular eyes, a triangle nose and a spiky mouth. Decorate the rest of the mask.
Cut the eyes, nose and mouth out with a scissors. This should be done under parental supervision.
Punch a small hole on each side of the paper plate.
Tie a length of green string to each side of the paper plate.
Tie this at the back of the child's head. Elastic can be used instead.
Note: If you do not want to be a pumpkin, you can decorate the mask whatever way you like. Use green paint to be a monster or black paint to be a cat. Just draw whiskers and ears on to finish the effect.