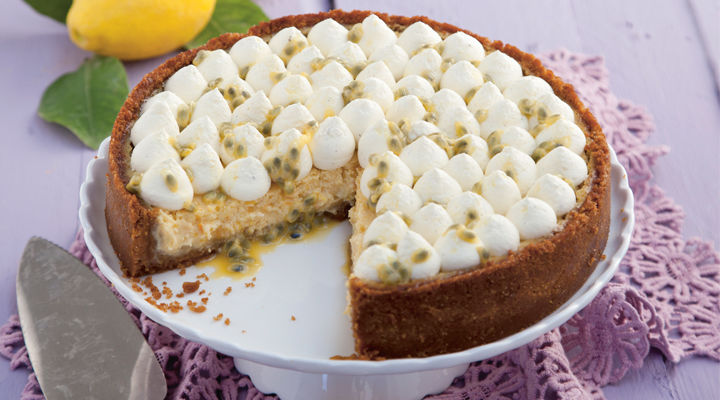 RECIPE OVERVIEW
Much like key lime pie, this is an infulgent, creamy and tangy tart, but made with oranges and lemons, which gives it its name. The base is usually made using digestive biscuits, but I've used ginger nut biscuits for a more exotic twist. 
For the Base
250

g

SuperValu Ginger Biscuits

100

g

SuperValu Unsalted Irish Creamery Butter 227g
For the Filling
1

tin

Condensed Milk

(397g)

2

-

SuperValu Oranges

zest and juice
For the Topping
2

-

SuperValu Passionfruit

1

-

SuperValu Vanilla Pod
Method
Preheat the oven to 180°C/gas mark 4.
Melt the butter in a large pan on the hob or in a bowl in the microwave. Blitz the biscuits in a food processor or bash in a sealed zip-lock bag until they are fine crumbs. Tip the crumbs into the melted butter, add the sugar and mix well. Scrape into a 20cm springform tin and press evenly onto the base and to come 5cm up the sides (its best to mark this height on the tin beforehand). Place on a baking tray and bake for 15 minutes.
Meanwhile, prepare the filling. Whisk the egg yolks and whole egg together in a large bowl until pale and frothy. Add the condensed milk along with the lemon and orange zest and juice. Whisk until well combined.
Remove the base from the oven and leave to cool slightly, then pour in the filling and bake for 20 to 25 minutes, until there is only a slight wobble in the middle. Remove and leave to cool in the tin before chilling for at least 5 hours or overnight.
When ready to serve, place the cream and creme fraiche in a large bowl. Split the vanilla pod in half length ways and scrape the seeds into the bowl with the tip of a knife. Whip until thick, then spoon into a disposable piping bag fitted with a 1.25cm wide plain nozzle and pipe small peaks all over the top. Halve the passionfruit, scoop out the seeds and juice and spoon them evenly over the top to decorate. 
Be the first to add a review.