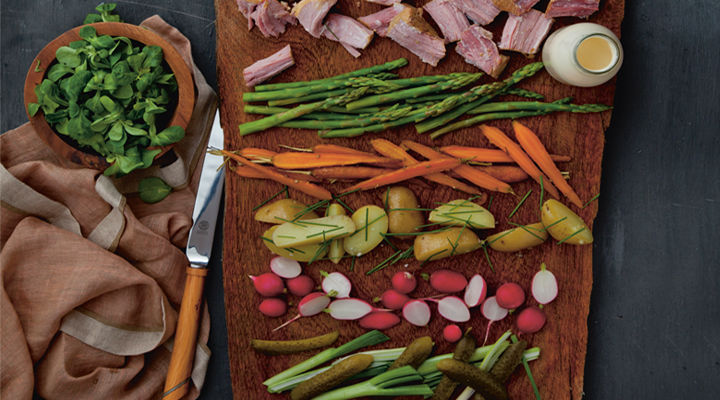 RECIPE OVERVIEW
This salad is perfect to serve as a starter or light lunch. For best results, cook the ham the night before and leave it chill in the fridge. 
Method
Cook the ham the night before. Place the ham fillet in a large, deep saucepan, cover with cold water and bring to the boil. Cook for 5 minutes, then remove from the heat and drain. Place the ham back in the saucepan and pour over the apple juice until it covers half of the joint. Pour fresh cold water over the joint to fill the pan completely. Insert the cloves into the onion halves and add them to the pan along with the bay leaves. Place the lid on the saucepan and simmer for 1 hour, adding more water if required. Remove the ham from the pan, cover and cool. Wrap in greseproof paper and chill overnight in the fridge.
Place all the salad cream ingredients except the oil and seasoning in a good processor. Blend until it starts to thicken, then gradually add the oil through the feeder tube until the salad cream is smooth and emulsified. Season to taste with salt and pepper. This dressing will keep for a week in the fridge.
Preheat the oven to 180oC/gas mark 4.
To prepare the salad, cook the baby potatoes in boiling salted water for 12 minutes, then drain and leave to cool. Cut in half lengthways.
Drizzle the whole baby carrots in olive oil. Sprinkle with the crushed coriander seeds and 1/2 teaspoon of sea salt. Roast for 12 minutes in the oven, then leave to cool. Cut in half lengthways.
Bring about 5cm of salted water to the boil in a large, high-sided frying pan. Add the asparagus to the pan in a single layer and cook for about 5 minutes, until tender. Drain and plunge into very cold water, preferably iced, to stop it from cooking.
To serve, break the cooked ham into bite-sized chunks. Arrange all the ingredients in rows on a platter and serve the salad cream and watercress on the side. 
Be the first to add a review.