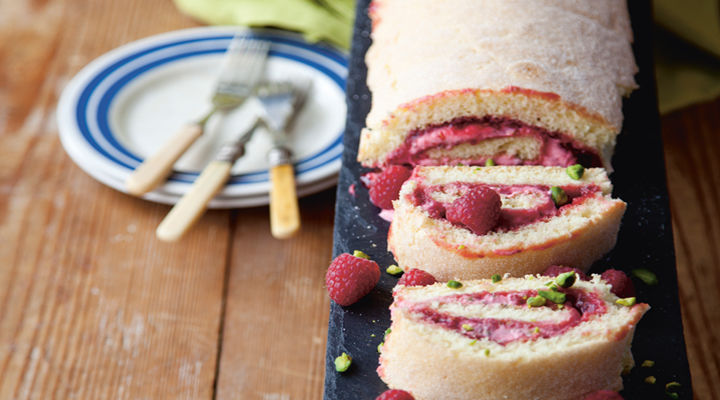 RECIPE OVERVIEW
Swiss roll is a popular cake to bring to a dinner party. The lemon and raspberries in this recipe make it a perfect summer desert.
Method
Preheat the oven to 180oC/gas mark 4. Grease and line a 23cm x 33cm Swiss roll tin with non stick baking paper.
Sift the flour, cornflour and lemon zest together.
In a large bowl, beat the eggs with the sugar until light and aerated. The whisk should leave a pronounced figure of eight on the surface of the mixture when the whisk is lifted out of it.
Fold in the warm water with a large metal spoon, then gently fold in the sifted flour mixture. Be very gentle so as not to knock any of the air out of the sponge base, but still ensure that all the flour is incorporated. Pour the batter into the prepared Swiss roll tin.
Bake for 20 minutes, until the sponge is well risen and golden brown. Cool slightly on a wire rack, but before the sponge is fully cooled, invert it onto a sheet of parchment paper dusted with some caster sugar, then spread with a thin layer of the warm raspberry jam.
Meanwhile, to make the raspberry and mascarpone cream, place the raspberries in a bowl with the lemon juice and honey and crush until smooth.
When the sponge has cooled to room temperature, add a thin layer of the raspberry mascarpone cream, then starting with the longest side rather than the shortest, carefully roll up the sponge away from you to for the Swiss roll. Decorate with fresh raspberries and pistachios and enjoy. 
Be the first to add a review.