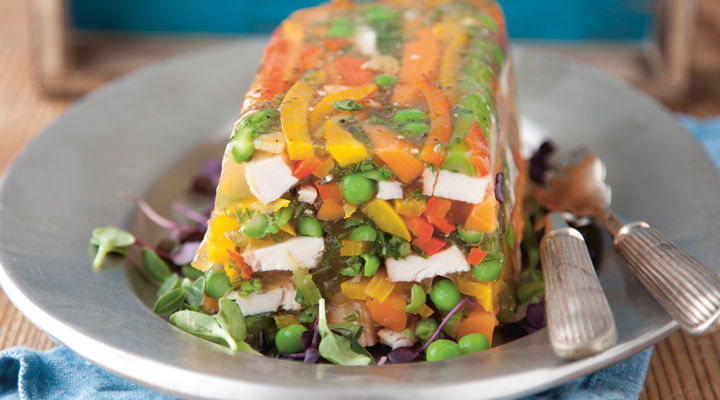 RECIPE OVERVIEW
This stylish starter is ideal for a guest to bring, as it needs to be made the day before.
8

-

Baby Carrots

halved lengthways

450

g

Chicken Breast

cooked and chopped

500

ml

Chicken Stock Cube

cold

1

-

Red Pepper

cut into batons

9

-

SuperValu Asparagus

tips only

1

tbsp

SuperValu Fresh Parsley Flat Leaf

chopped

1

-

Yellow Pepper

cut into batons
Method
Soak the gelatine in 150 ml of the cold chicken stock until softened.
Pour the remaining stock a small saucepan and add the crushed garlic. Bring to the boil, then remove from the heat. Add the softened gelatine and the cold stock, stirring until the gelatine has fully dissolved, then add the chopped parsley. Put aside but don't allow it to set. You have about 30 minutes to prepare the rest of the terrine until it sets.
Blanch the asparagus tips and carrots in boiling water for 2 to 3 minutes, then remove from the pan and place in ice water to stop the cooking process. Drain and set aside.
Heat a large pan over a high heat until it's smoking hot, then add a little olive oil and the red and yellow peppers. Sauté for 2 to 3 minutes, until softened. Remove from the heat and set aside.
Line a 2 lb loaf tin with enough cling film so that it hangs over the sides of the tin. Ensure the cling film is not pierced anywhere and is fully pressed into the corners.
Pour a thin layer of stock into the base of the tin. Divide the vegetable mix in three and place the first third into the tin. This will be the top of the terrine, so try to do this first layer neatly. Arrange half of the cooked chicken on top, tearing the pieces to fit. Place the second third of the vegetable mix on top of the chicken, then pour over half of the remaining chicken stock. Repeat by adding the final layer of vegetables and chicken and then pour over the remaining stock. Fold over the cling film and refrigerate over night.
To serve, invert the terrine onto a serving plate, remove the cling film and cut into slices.
Be the first to add a review.