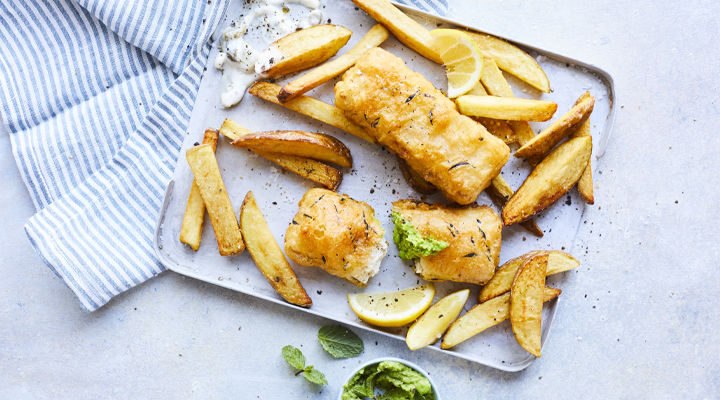 Method
For the vegan fish: Drain the tofu and slice into 8 pieces. Score each piece a few times diagonally across to allow the marinade to soak through.
Place all the tofu in a large dish, and cover with the olive oil, salt, pepper, lemon juice, white wine vinegar and seaweed flakes, leave for 1 hour to marinade.
Set up a dipping station with one bowl of corn flour and one bowl of batter. To create the batter, combine sparkling water, plain flour, a pinch of salt , a tablespoon of seaweed flakes and whisk.
Coat each piece of tofu in corn flour, followed by the batter. Add each piece of tofu to a deep fat fryer or an oiled pan for shallow frying.
Once golden brown on one side flip and repeat.
For the tartare: Combine the vegan mayonnaise, gherkins and
capers. Add the lemon juice and season with salt and pepper.
For the peas: Boil and drain the peas, add the mint leaves,
mayonnaise and white wine vinegar. Blitz with a hand blender to a rough consistency. Season with salt and pepper.
For the potatoes: Wash and cut the potatoes into slices, leaving
the skins on.
Lay the potato slices on a baking tray. Season with salt and pepper and a generous pour of olive oil.
Place in the oven at 200°C for 40 minutes. Turn the chips after 20 minutes.
Be the first to add a review.