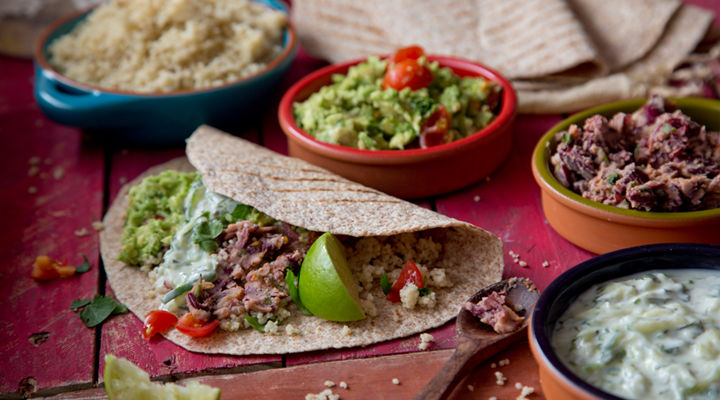 RECIPE OVERVIEW
These burritos are a great hands-on family meal.
Method
1. To make the spicy couscous, boil the kettle. Place the couscous, spices and a pinch of salt and pepper in a heatproof bowl and mix together, then cover with boiling water until the water is about 1cm above the level of the dry couscous. Cover the bowl tightly with cling film and leave for 5 minutes, until all the water has been absorbed. Fluff up the couscous with a fork.
2. To make the refried beans, heat the oil in a large frying pan set over a medium–low heat. Add the garlic and fry for 3 or 4 minutes, until it starts to turn golden. Add the beans, water, soy sauce, cumin and a pinch of salt and pepper and cook for about 4 minutes, stirring regularly, then mash the beans slightly with a wooden spoon. Tear up the coriander leaves and stir them in along with the lime juice to give the beans some freshness and vitality.
3. To make the guacamole, put everything into a big bowl with a pinch of salt and pepper and mash slightly so that it all comes together.
4. To make the tzatziki, finely grate the cucumber into a colander, sprinkle with a pinch of salt and leave to sit for 5 minutes in the sink, then squeeze all the liquid out of the grated cucumber. Meanwhile, remove the mint or dill from its stalks and chop very finely. Mix all the ingredients together in a bowl.
5. Now it's burrito time! Add whatever ingredients you like to your wrap. Roll it up and heat it on a hot, dry pan until it starts to crisp up and is warmed through. Serve straight away.
Be the first to add a review.