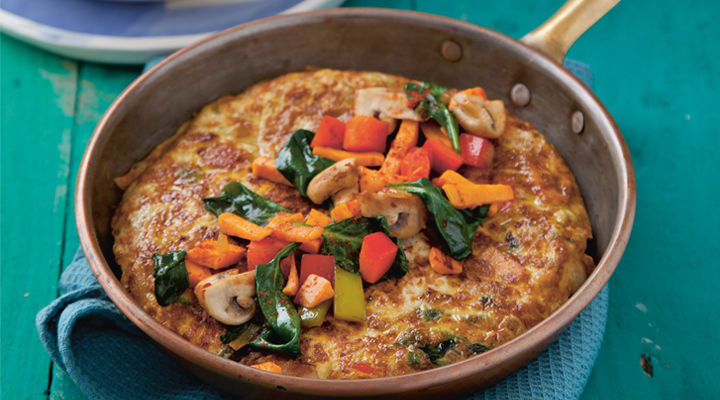 RECIPE OVERVIEW
Eggs are a great source of protein, so this dish is a brilliant way of getting protein and plenty of veg into your diet. This omelette provides everything a healthy dish should: protein, slow-release energy and plenty of vitamins and minerals from the colourful vegetables. 
0.5

-

Red Pepper

diced (any colour pepper will do, add as much colour as you wish)

30

g

SuperValu Feta Cheese

crumbled

1

handfull

SuperValu Spinach

150

g

Sweet Potatoes

peeled and finely diced
Method
Preheat the grill to a medium-high heat.
Warm the oil in a medium ovenproof frying pan over a medium heat. Pan-fry the diced sweet potatoes for 3 to 4 minutes, until starting to soften. The smaller you chop the sweet potato, the quicker it will cook. Add the chopped onion and let it sweat for another 2 minutes. Add the pepper and mushrooms and fry for 3 minutes, stirring continuously. Pour in the chopped tomatoes, add the spinach and paprika, if using, and mix well.
Pour the beaten eggs over the vegetables in the pan. Do not mix, but rather tip the pan so the eggs run evenly across the whole pan. Season with salt and pepper. Cook for a further 3 to 4 minutes, until the bottom begins to set, making sure the base doesn't burn. Place the pan under the grill for about 5 minutes to cook the top. Add the crumbled feta at this point. The omelette is done when the eggs have completely set.
Tip the omelette out onto a plate and cut into wedges to serve.
Good source of vitamin A.
Be the first to add a review.