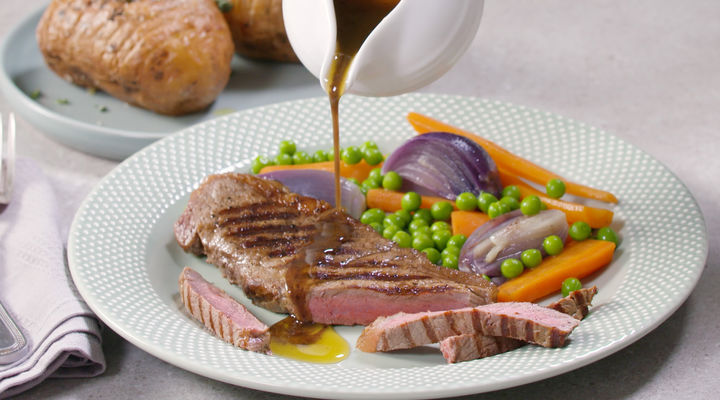 RECIPE OVERVIEW
This sauce has a sharp intense red wine flavour that is smothered by the addition of fresh butter at last minutes! A little luxury sauce in a few minutes!
4

large

Maris Piper Potatoes

4

-

SuperValu Fresh Irish Striploin Steaks

thick

2

sprigs

SuperValu Fresh Thyme
Method
1. Preheat the oven to 220ºC/425ºF/gas mark 7.
2. Slit the potatoes without cutting all the way through them. The incisions should go about three-quarters of the way down. Place them on a roasting tray, drizzle with olive oil and sprinkle with salt and pepper and thyme.
3. Bake for about 30 minutes until cooked through.
4. Meanwhile, place the carrots, onions in a small pan and add the vegetable stock and 20g butter. Bring to simmer over medium heat, covered with a lid and simmer for 20 minutes or until cooked through. remove from the heat and add the fresh peas. Keep warm aside.
5. Then, preheat a griddle pan over a medium-high heat.  Rub a little olive oil on the beef striploins and sear the steaks for 2 - 3 minutes each side (for a medium), or longer if desired.   
6. Remove the striploin from the pan, and add the red wine onto the hot griddle pan. Leave to reduce for 3 - 4 minutes over medium heat until reduce by 2/3 then remove from the heat and add 60 g butter and season with a dash of vinegar. 
Be the first to add a review.