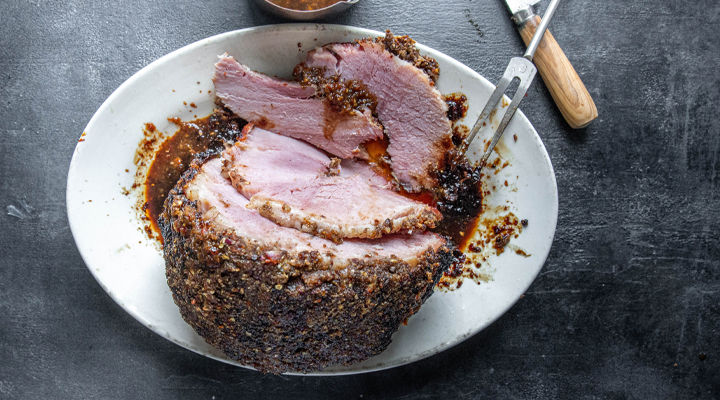 1

fillets

Signature Tastes Hampshire Ham Fillet 2.7kg
Method
Heat the oven to 180°C.
Place the ham in the oven in a roasting tray, not too much bigger than the size of the ham. Pour the ginger ale around it, cover with parchment paper and tin foil tuk it in and cook for 2.5 hours.
Then, remove covers and score the fat into thin lines across the top, a sharp knife is essential for this.
Blitz the chillies, red onion, garlic, spring onions, pineapple, ginger and pepper together until fi ne, then stir through the brown sugar and allspice, along with the whiskey.
Spread this over the ham, then return to the oven for another 30 minutes, basting as you go with the glaze in the pan.
Set aside the ham to rest and transfer the tray contents to a pan. If your tray is heatproof, pop it on the hob.
Bring it to the boil, then simmer for 3-4 minutes until it has thickened a little if it hasn't created this already in the oven.
Slice the ham and serve with the sauce and some sides (also delicious between slices of batch bread).
Be the first to add a review.