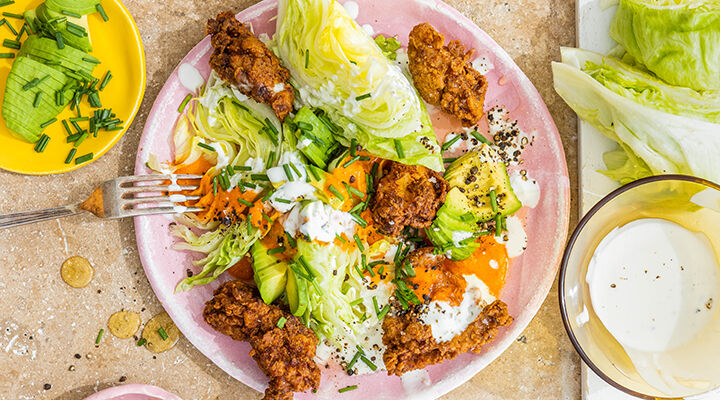 Method
Preheat your oven to 160°C. Pop the buttermilk, lemon, and chicken into a bowl or container with a lid, season with salt and pepper. Leave to marinate overnight or for at least 2 hours.
For the pepper sauce; put the red peppers, star anise, butter, and oil into an ovenproof dish. Put in the oven for 30 minutes until tender. Blitz until smooth in a mini blender. Season to taste. When the sauce is blended or just before, heat your oil to 180°C.
Mix the 5 spice and flour together in a wide bowl. Drizzle a little buttermilk into the flour mix. Remove the chicken from the marinade and press each piece individually into the flour to coat it, make sure they're well coated.
Cook the chicken in batches, add a few pieces to the oil at a time, don't add too many or it will bring down the temperature of the oil. Cook for 5-6 minutes until golden, drain using a slotted spoon. Sprinkle right away with sea salt.
For the salad dressing; combine the mayo, buttermilk, garlic, and lemon juice in a small bowl with lots of black pepper and salt.
Now for the fun part; the salad assembly. Arrange the iceberg wedges on a platter, and place the avocado on top of the lettuce. Top with the chicken and drizzle with the salad dressing and the pepper sauce.
Sprinkle with the chopped chives and a drizzle of honey to serve.
Be the first to add a review.