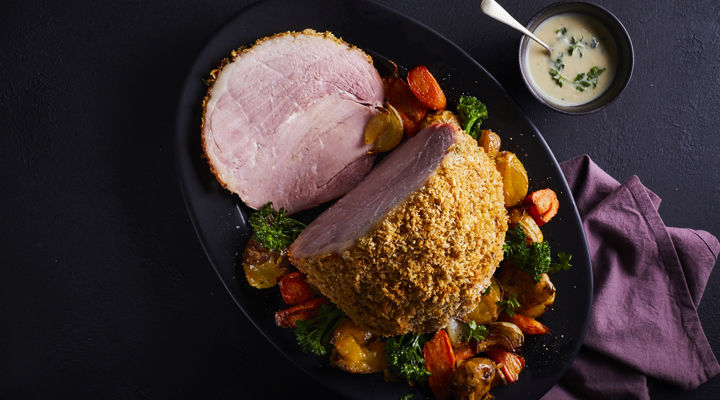 RECIPE OVERVIEW
By Kevin Dundon
For a 2.7kg ham, I recommend between six and eight hours in the slow cooker. If you want to carve your ham then stick closer to the six hours but if you prefer it crumblier, almost like pulled pork, then cook it for up to eight hours.
6

piece

Asparagus

optional

500

g

Baby Potatoes

cut in halves

4

small

Carrots

cut into slices

1

tbsp

Flat Leaf Parsley

chopped

100

g

Mature Irish Cheddar

1

pack

Signature Tastes Hampshire Ham Fillet 2.7kg

6

piece

Tenderstem Broccoli

optional
Method
In the slow cooker, pour in the cider around the ham fillet. Add one onion, a bay leaf and peppercorns, cover and cook on low for 6-8 hours.
Prepare the glaze: In a small saucepan, warm the honey and rosemary, stirring until combined. Remove from the heat and keep aside until needed.
Next, prepare the vegetables. In a saucepan, place the baby potatoes, carrots, and the garlic. Fill with vegetable stock or water and bring to the boil.
Simmer for 10 minutes, then add the second onion to the saucepan with the baby potatoes and continue simmering for a further 5 minutes until the carrot and the potatoes are just starting to soften.
Remove from the heat. Drain and place on a roasting tray. Crush the baby potatoes slightly. Add the asparagus or tender steam broccoli and grate some cheese on top. Drizzle with some rapeseed oil.
Once the ham is cooked, preheat the oven to 200°C.
Lift out of slow cooker bowl and place on the roasting tray with the vegetables. Remove the top layer of fat
from the fillet, brush with the honey glaze and sprinkle with panko breadcrumbs.
Place the roasting tray in the oven and roast for 20 minutes until the ham is coloured and the vegetables are roasted.
Remove from the oven, carve and serve with some sauce and a sprinkle of fresh herbs.
TOP TIP: IF YOU DON'T HAVE A SLOW COOKER, YOU CAN PLACE THE HAM IN A LARGE SAUCEPAN WITH THE CIDER, BAY LEAVES, ONION, AND PEPPERCORN AND COVER WITH WATER. BRING TO THE BOIL AND SIMMER ON LOW HEAT FOR ABOUT TWO HOURS. FOLLOW THE RECIPE TO ADD THE TASTY GLAZE
Be the first to add a review.