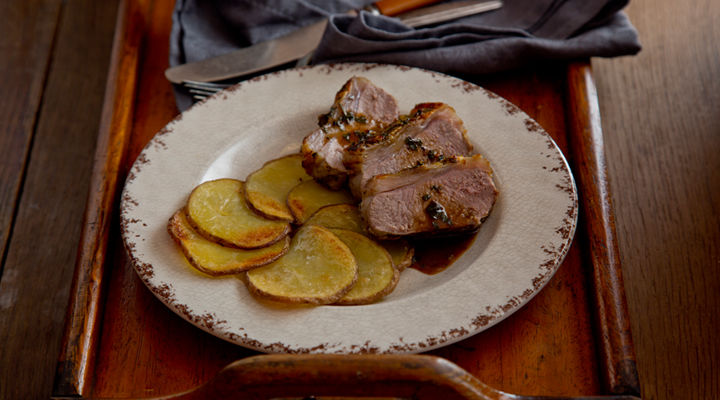 RECIPE OVERVIEW
A lovely loin brushed with some mustard and fresh herbs and garlic.
700

g

SuperValu Fresh Irish Lamb Loin

(ask your SuperValu butcher to prepare this)

3

sprigs

SuperValu Fresh Rosemary

2

sprigs

SuperValu Fresh Thyme
For the Maxim's Potatoes
5

-

SuperValu Rooster Potatoes

scrubbed and sliced 2mm to 3mm thick
For the Pan Sauce
500

ml

Chicken Stock Cube

or vegetable stock

1

tbsp

SuperValu Fresh Mint

chopped

1

sprig

SuperValu Fresh Rosemary
Method
Preheat the oven to 150oC/gas mark 2.
Rub the lamb allover with the mustard, then place in a bowl with the garlic, rosemary, thyme, lemon zest and olive oil. Set aside to marinate while you prepare the potatoes.
Place the potatoes slices in a bowl and add the clarified butter. Season with salt and pepper and gently mix to coat the potatoes with butter.
Line a baking tray with non-stick baking paper. Arrange the potatoes in a single layer over the paper, overlapping them slightly to look like fish scales. Cover with a second layer of paper and a second baking tray that will fit inside the first to weight them down. Bake in the oven for 20 to 30 minutes, until the potatoes are cooked. Remove from the oven and lift off the top baking tray and the top sheets of paper. Set aside on the tray until ready to serve.
Increase the oven temperature to 180oC/ gas mark 4 Heat a large frying pan and sear the lamb on all sides for 1 or 2 minutes, including the rosemary. Season well with salt and pepper. Discard the rosemary and transfer the lamb to a baking tray, but set the pan aside and don't clean it out. Roast the lamb in the oven for 20 minutes, until cooked. Rest in a warm place.
Place the tray of cooked potatoes back in the oven while the lamb rests for about 5 minutes, until golden brown and heated through again.
Meanwhile, deglaze the frying pan that you seared the lamb in my pouring in the wine and allowing it to reduce by two-thirds. Add the stock and a fresh rosemary sprig and reduce until it coats the back of a spoon. Strain through a fine mesh sieve and add the fresh mint.
Carve the lamb into slices. Serve the Maxim's potatoes with the sliced lamb and a drizzle of the pan sauce.
Be the first to add a review.