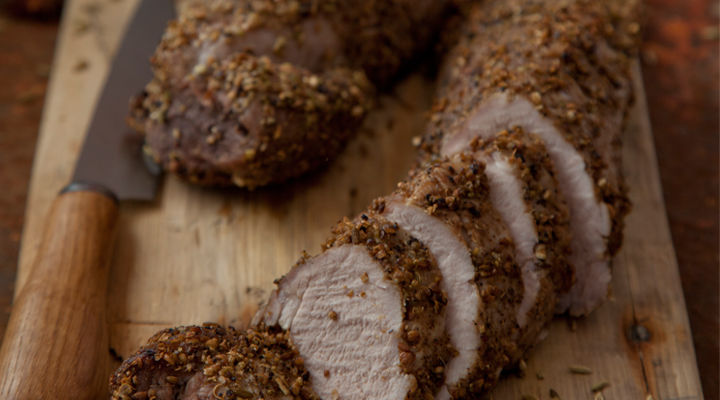 RECIPE OVERVIEW
You will not be disappointed with this flavourful roast pork dish. This delicious recipe is perfect for a Sunday lunch.
2

-

Pork Fillets

tenderloin (400g-500g each)
For the Spiced Apple Sauce
250

ml

Apple Cider Vinegar

250

ml

Chicken Stock Cube

1

-

Onion

cut into wedges

5

-

SuperValu Granny Smith Apples

peeled, cored and cut into wedges
Method
Place the fennel seeds, sea salt, coriander seeds, peppercorns and cumin seeds in a pestle and mortar and finely grind them all together.
Using a sharp knife, make tiny incisions all over the pork. Drizzle with 1 tablespoon of olive oil and roll in the spice mixture to coat well. Refrigerate for 1 hour or overnight.
Preheat the oven to 160oC/gas mark 3.
To make the apple sauce, place the apples and onion in a roasting tray, drizzle with the olive oil and scatter over the fennel seeds, star anise, bay leaf and garlic. Bake for 15 to 20 minutes, until the apples start to soften and the onion is slightly caramelised.
Before the apples get a tough exterior, pour over half the stock and half the cider. Bake for 15 more minutes, until the apples are tender.
Remove from the oven and transfer the apples to a saucepan, discarding any charred onions. Add the remaining stock and cider and bring to the boil, then reduce the heat to a simmer and cook for 10 minutes, until slightly thickened. Strain through a fine mesh sieve into a clean saucepan, pushing most of the softened apple pieces and liquid through the sieve. Discard the solids. Add the brown sugar to the pan a little more stock or water if necessary and blend with a hand blender until smooth. Stir in the cream. Set aside and keep warm.
Increase the oven temperature to 180oC/gas mark 4.
Heat 1 tablespoon of olive oil in a frying pan over a medium-high heat. Add the pork and cook, turning gently, until browned all over. Transfer to a baking tray and cook for 30 minutes, until cooked through. Remove from the oven and rest, covered with tin foil, for 10 minutes.
To serve, gently reheat the sauce and cut the pork into thick slices. Spoon the sauce onto each plate and arrange the slices of pork on top.
Be the first to add a review.