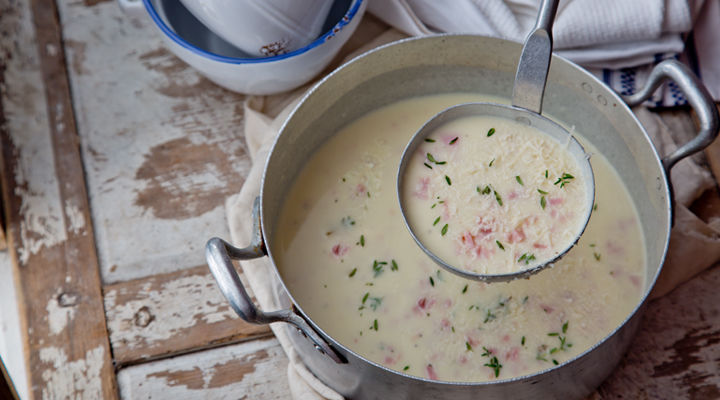 RECIPE OVERVIEW
This delicious soup is just what you need to warm up a winter party.    
250

g

SuperValu Back Bacon Slices

or ham or gammon (cooked or raw), shredded or cut into small strips

80

g

SuperValu Parmesan Cheese Shavings

500

g

SuperValu Potatoes

peeled and cut into large chunks, or leftover roast potatoes
Method
1. Preheat the oven to 200°C/gas mark 6. Line a baking tray with non-stick baking paper.
2. Cook the potatoes in plenty of salted boiling water until tender, then drain and set aside. If you're using leftover roast potatoes, go straight to step 3.
3. Melt the butter in a medium-sized saucepan, then add the cooked potatoes and fry for a few minutes to let them get a little bit of colour. Add the hot water and milk and cook together for a few minutes more.
4. Meanwhile, place the cooked shredded meat on the lined baking tray and reheat in the oven for 5 minutes. If you're using uncooked meat, then cook it for 8 to 10 minutes, until it's completely cooked through and crispy.
5. Using a hand blender, blend the potatoes and milk together until a smooth cream is formed. If it's too thick, add a little more milk or even water. Stir in most of the cooked meat and most of the grated Parmesan. Taste and season with a pinch of freshly ground black pepper.
6. To serve, ladle into warmed soup bowls and garnish with the reserved meat, Parmesan and another grinding of black pepper.
Be the first to add a review.