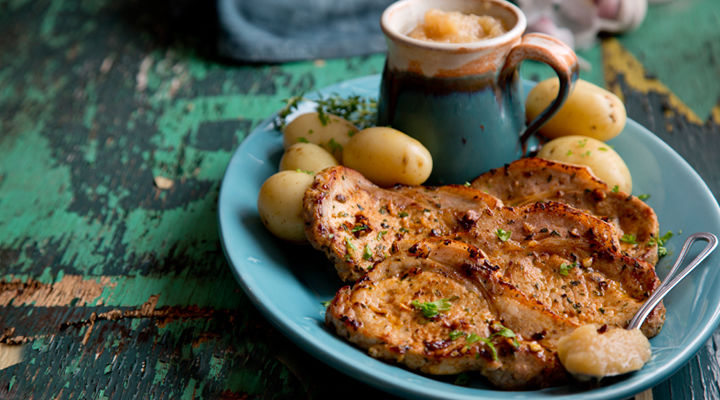 RECIPE OVERVIEW
Pork and apple is a wonderful combination that is sometimes overlooked as a simple and healthy meal option. The applesauce is the only part of this recipe that requires a little investment of time, as the chops are ready in a matter of minutes.
1

pinch

SuperValu Dried Sage

0.5

tsp

SuperValu Dried Thyme

4

-

SuperValu Quality Irish Pork Chops
For the Apple Sauce
4

-

SuperValu Cooking Apple

peeled and chopped
Method
Rub the pork chops with the crushed garlic, thyme, paprika, sage and salt. Set aside while you make the applesauce.
Place the apples in a saucepan with the cold water and set over a medium heat. Cover and simmer for 15 minutes, until the apples are soft. Add the lemon juice, honey, butter and cinnamon. Remove from the heat and serve as it is, or if you would like a smooth applesauce, allow the sauce to cool, then blitz in a blender. You can serve the applesauce warm or cold.
To cook the chops, warm the rapeseed oil in a non-stick pan set over a medium heat. Add the chops and cook for 4 minutes on each side. Serve with the apple sauce on the side.
Be the first to add a review.