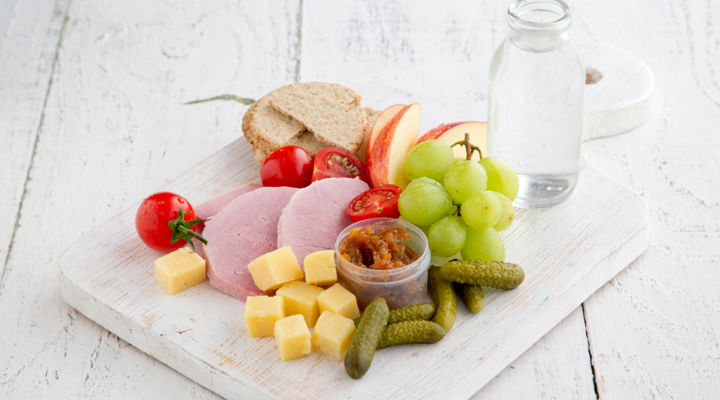 RECIPE OVERVIEW
The ham fillet will obviously be much more than you need for just two lunches, but if you're going to the trouble of cooking one, you may as well cook a larger one so that you can use the leftovers in salads, pasta dishes or quesadillas or slice it thinly for sandwiches for your lunchboxes for the week. Alternatively, if you have leftover ham from a Sunday lunch, use that instead. Kids love having lots of choice, and this classic ploughman's selection ticks all the boxes for a balanced lunch.
6

-

Cherry Tomatoes

halved

0.5

-

Cucumber

cut into batons

1

tbsp

Dijon Mustard

or chutney (optional)

6

-

Pickled Gherkins

or cornichons

1.5

kg

SuperValu Quality Irish Ham Fillet

(or 200g leftover from a Sunday lunch)

6

-

SuperValu Rice Cakes Unsalted 100g
Method
If you're not using leftovers and are cooking a ham from scratch, first weigh your ham to calculate the cooking time. It will need 45 minutes per 1kg plus 30 minutes on top of that, so this 1.5kg fillet will take 1 hour 40 minutes to cook. Put the ham in a large pot and cover with cold water. Bring to the boil, then reduce the heat and simmer for the required cooking time. Allow to cool, then cut into small, thick slices or chunks that can be served on top of the oat cakes (aim for about 100g ham for each lunch).
Divide the remaining components into seperate small airtight containers for kids to mix and match at lunchtime. If your kids would like mustard or chutney, be sure to pack a small knife as well for spreading it on the ham or oat cakes. Don't forget a bottle of cold water or unsweetened fruit juice too. A good quality fresh pressed apple juice would be particularly nice with this lunch. 
Be the first to add a review.