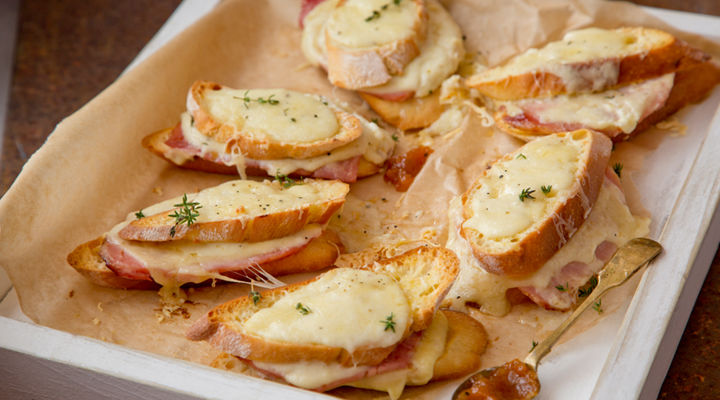 RECIPE OVERVIEW
This is a really great recipe for feeding the masses at a Christmas or New Year's Eve drinks party. The key is to buy the best-quality ham, bread and Gruyère possible. 
1

tbsp

Dijon Mustard

for spreading

100

g

Emmental Cheese

grated

200

g

Gruyere Cheese

sliced

2

-

Loaf of Bread

fairly dense and chewy

40

g

Low Fat Butter

softened

500

g

SuperValu Cooked Ham

cut into medium-thick slices
For the béchamel sauce
50

g

Gruyere Cheese

grated

1

pinch

Nutmeg

freshly grated
Method
*This recipe makes 12.
1. First make the béchamel sauce by melting the butter in a saucepan set over a medium–high heat. Add the flour and cook it out for 2 or 3 minutes, but don't let it brown. Pour in the cold milk and whisk constantly – don't stop until it comes together and coats the back of a spoon. Turn down the heat and stir in the grated Gruyère until it melts, then season with a pinch of freshly grated nutmeg and white pepper. 
2. Cut the bread into 24 slices in total. Lightly toast one side of the bread and lightly butter the other side. Spread the buttered side generously with mustard, then top with a slice of ham, a slice of Gruyère and a spoonful of the sauce. Top the sandwich with another slice of bread, toasted side up. Repeat for all 12 sandwiches.
3. Line one or two baking trays with non-stick baking paper. Cut each sandwich in half on the diagonal with a sharp knife, then arrange the sandwiches on the trays. Pour over the remaining sauce, then scatter over the grated Emmental. 
4. The croques can now be left to soak up the sauce before being reheated at 140°C/gas mark 1 later on in the evening. The cooking time can be anywhere from 30 minutes if you want the croques to still be quite moist all the way up to 90 minutes for a crisp croque with a concentrated flavour.
Be the first to add a review.