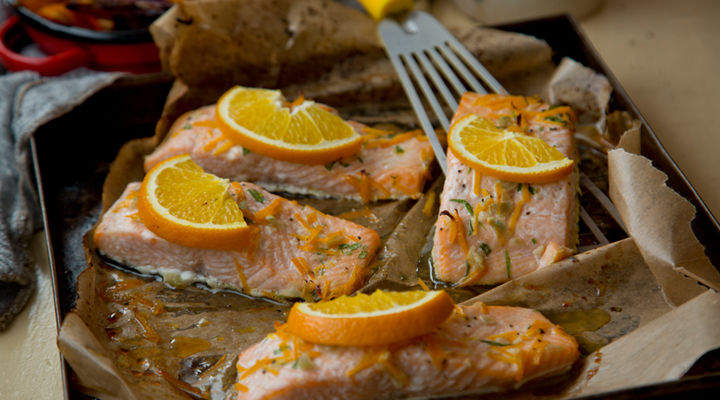 RECIPE OVERVIEW
Fish might not be the first thing that comes to mind as a roast dinner option, but this salmon dish is quick to make and incredibly tasty. It goes perfectly with roast or steamed vegetables and sweet or white potatoes.
2

tbsp

SuperValu Fresh Parsley

chopped

4

-

SuperValu Fresh Salmon Fillets

1

-

SuperValu Orange

zest

4

slices

SuperValu Orange

150

ml

SuperValu Orange Juice 1.75ltr

1

pinch

SuperValu Tarragon

marjoram and/or thyme
Method
1. Place the salmon in a large baking dish and season with the tarragon, marjoram and/or thyme and a pinch of salt and pepper.
2. Mix the garlic, orange zest and juice, honey, olive oil and ginger together in a small bowl. Pour this on top of the salmon fillets and allow to marinate for 1 hour. Turn the salmon at least twice during this time in order to coat the salmon well with the marinade.
3. Preheat the oven to 200°C/gas mark 6.
4. Top each fillet with an orange slice, then place the dish in the oven and bake for 20 to 25 minutes, until the salmon is cooked through. Garnish with the chopped fresh parsley.
*Serve with roast vegetables.
Tip: Always cook your salmon fillet with the skin on, as leaving the skin intact helps the fillet hold together. 
Be the first to add a review.