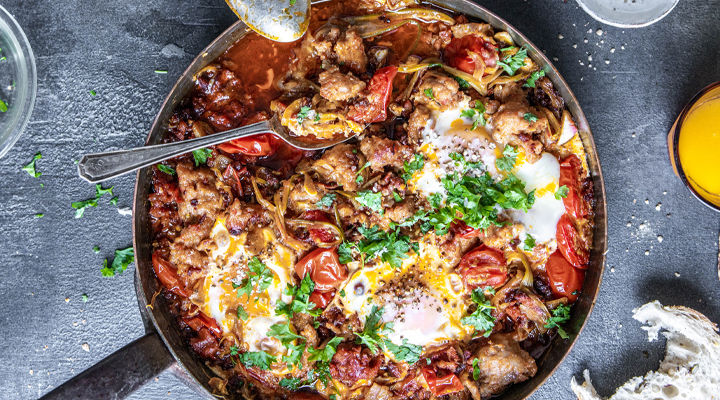 RECIPE OVERVIEW
"I have found that serving pots of delicious food to the table is as crowd
pleasing as it gets. More is not more with some dishes. Sometimes
simple, delicious and great ingredients make any feast unforgettable." Sarah Kim Watchorn
Method
Heat a large ovenproof skillet over a low to medium heat. Blitz the chorizo so it transforms into little stuffing-like bits.
Add the oil, chorizo and sausage meat and cook for 5-6 minutes.
This will release the oils. Break up the sausage meat with a wooden spoon to give little balls of sausage. Cook gently without needing any extra oil.
You want a little colour, but watch it, as it will brown quickly. Add your fennel and let this soften for a bit, 3 minutes should do the trick.
Add the butter, once bubbly, stir through the tomatoes and garlic, sauté these for about 10 minutes. Season with lots of white pepper and salt.
Pour in the chicken stock and let it reduce a little.
Create 4 gaps (like a plunge pool for an egg!) and crack them in. Simmer for 10 minutes until the whites turn opaque but the yolks are still soft. Top with parsley and a little more white pepper and serve with the sourdough soldiers.
Be the first to add a review.