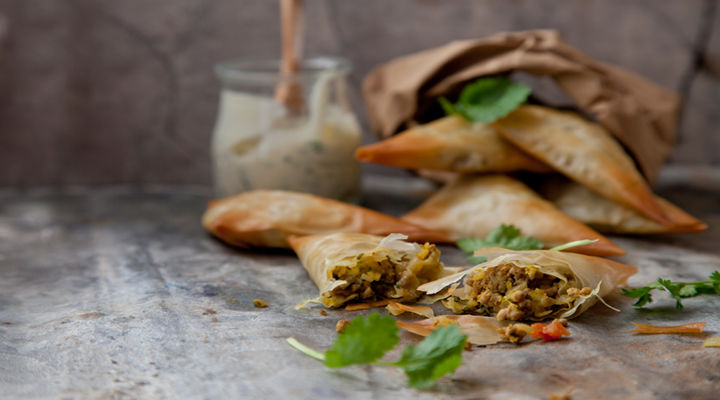 RECIPE OVERVIEW
This fun Indian favourite is the perfect dish bring to parties and get togethers.
150

g

Haloumi cheese

grated

1

tbsp

Olive Oil

plus extra for greasing

1

tsp

SuperValu Fresh Coriander

finely chopped

2

tbsp

SuperValu Fresh Parsley

finely chopped

500

g

SuperValu Quality Irish Lamb Mince

1

-

SuperValu Tomato

diced
Method
Preheat the oven to 200oC/gas mark 6. Grease a baking tray with olive oil.
Warm the oil in a medium-sized pan set over a high heat. Add the onion and cook for 2 to 3 minutes, then add the minced lamb and season with salt and pepper, but not too much salt because the halloumi cheese is quite salty. Once the lamb is fully browned, transfer to a bowl with a slotted spoon and allow to cool.
Add the cheese, tomato, parsley, capers, coriander and turmeric and mix until well combined.
Trim the filo sheets into 10 cm x 30 cm rectangles. When working with filo pastry, you must keep it covered with cling film or a damp kitchen towel to prevent it from drying out.
Brush the edges of one sheet with a little melted butter. Spoon the 1 tablespoon of the lamb filling onto the bottom right corner of the sheet. Fold the right corner diagonally up to the left to make a triangle. Fold up along the top edge to create another triangle, then fold to the right. Keep folding into triangles all the way up to the top of the pastry. Place on the oiled baking tray and brush the top with a little more melted butter. Repeat with the remaining filo and filling.
Bake in the oven for approximately 15 minutes, until golden. Serve immediately. This recipe goes well with a yogurt and cucumber dip served on the side.
High in zinc

Be the first to add a review.