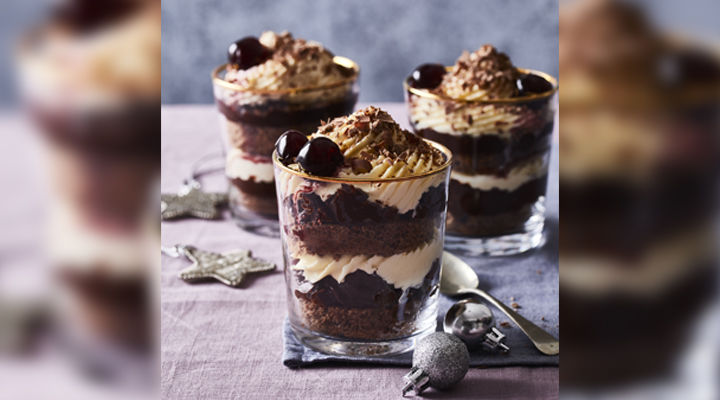 For the Cherry Chocolate Sauce
4

tbsp

black cherries in syrup

1

tsp

cherry liqueur

optional
For the Whipped White Chocolate
Method
Preheat oven to 160°C. Line a baking tray with parchment paper.
For the white chocolate cream: Melt the white chocolate in a bowl set over a small saucepan of simmering water. Place 75ml of the cream in a second small saucepan and bring to the boil.
Remove from the heat and pour the cream into the melted chocolate, stirring briskly. Remove the bowl from the heat and briskly stir the remaining cold cream into the chocolate. Cover with clingfilm and place in the fridge for 2 hours to set.
Once set, whip and transfer in the piping bag. Keep in the fridge until required.
For the sponge: Melt the chocolate in a heatproof bowl over a saucepan half-filled with water. Stir until smooth.
In a separate bowl, beat the eggs and sugar until light and creamy. Fold in the water, then the chocolate mixture.
Sift the self-raising flour and ground almond into the eggs mixture and fold until smooth. Pour the mixture into the baking tray and bake for 10 minutes until cooked through.
Remove from the oven and set aside to cool. Cut into pieces squares or circles using a pastry cutter to fit glasses.
Prepare the ganache: Melt the dark and milk chocolate with the butter in a bowl over simmering water.
Remove from the heat, stir until the consistency is smooth and slightly thickened.
Stir in the crushed cherries and leave both to cool for a few minutes.
To assemble: Drizzle some dark chocolate ganache into the glasses, then, alternate layers of sponge, whipped white chocolate cream and cherries.
Finish by drizzling on the leftover chocolate sauce, adding the extra cherries and sprinkling with crushed chocolate flakes.
Be the first to add a review.