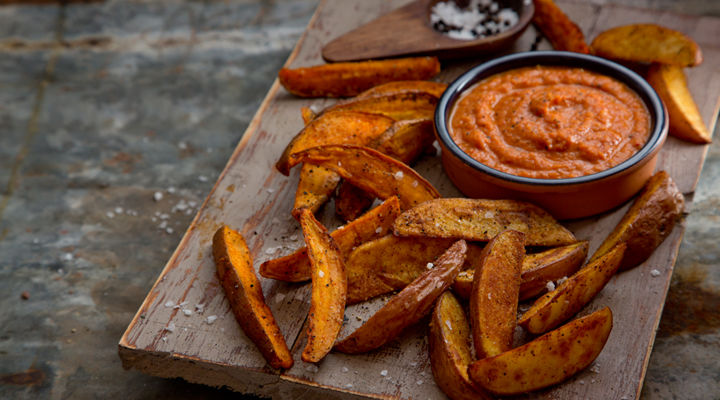 RECIPE OVERVIEW
Chips are a firm favourite at the weekend, but what about making a healthy alternative and combining them with your own sauce for a delicious and fun Friday meal that everyone can enjoy?
1

tbsp

SuperValu Extra Virgin Olive Oil

plus extra for greasing

2

-

SuperValu Potatoes

cut into wedges

1

pinch

SuperValu Smoked Paprika

1

-

SuperValu Sweet Potato

cut into wedges
For the Curry Sauce
1

-

Red Chilli

deseeded and diced

1

bunch

SuperValu Fresh Coriander

finely chopped

1

tbsp

SuperValu Fresh Ginger

grated

2

tbsp

SuperValu Tomato Purée
Method
Preheat the oven to 200oC/gas mark 6. Lightly grease a baking tray with olive oil.
Place the potato wedges in a large bowl and toss with the olive oil, cumin and paprika and season with salt and pepper. Spread the wedges evenly over the greased baking tray. Bake in the oven for 15 minutes, then flip them over and bake for an additional 15 minutes, until they are golden brown.
Meanwhile, to make the curry sauce, warm the olive oil in a saucepan set over a medium heat. Add the onion, chilli and garlic and cook for about 6 minutes, until the onion begins to brown. Add the tomato purée, grated ginger and curry powder and cook for 1 to 2 minutes, then add the chopped tomatoes, lemon juice and maple and stir well.
Reduce the heat to low and let the sauce simmer for about 25 minutes, until thickened. Stir in the chopped fresh coriander and cook for 5 minutes more.
Remove the saucepan from the heat and use an immersion blender to whizz to a smooth texture. Alternatively, you can let the sauce cool, then transfer it to a regular blender and blitz until it's smooth (remove the centre piece to allow hot air to escape when blending), then reheat, Stir in the non dairy yogurt at the end, just before serving.
Serve the curry sauce as a side for your homemade chips or burgers.
Tip: If you want crispy chips, cut the potatoes extra thin and only use a little oil, then keep turning them as they bake as they can burn much more easily when they're cut thin.

Be the first to add a review.