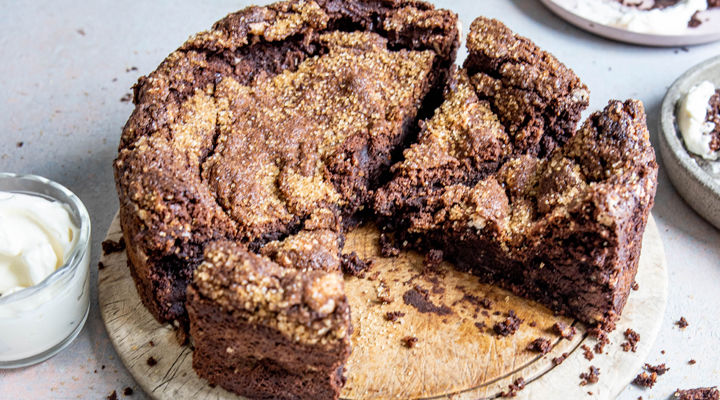 Method
Heat oven to 160°C. Grease and line a 20cm round cake tin with parchment paper.
Put the chocolate and butter into a large bowl over a pot of simmering water, stirring until melted. Remove from the heat and allow to cool.
Put the egg whites in the bowl of your mixer and whisk on high until soft peaks form, gradually add 100g sugar until light and glossy.
Mix the remaining 75g sugar into the chocolate mixture along with the egg yolks and hazelnuts. Fold through the egg white mixture until smooth.
Tip into the prepared tin and smooth the surface. Sprinkle over the demerara sugar, I would recommend to use your hand instead of a spoon, it will give you more control and an even sprinkle.
Pop into the oven, on the middle shelf for 45 - 50minutes. Then, let it cool completely in the tin.
To serve, whisk the brandy cream ingredients together until there are soft peaks and dollop on top of the cake.
Be the first to add a review.