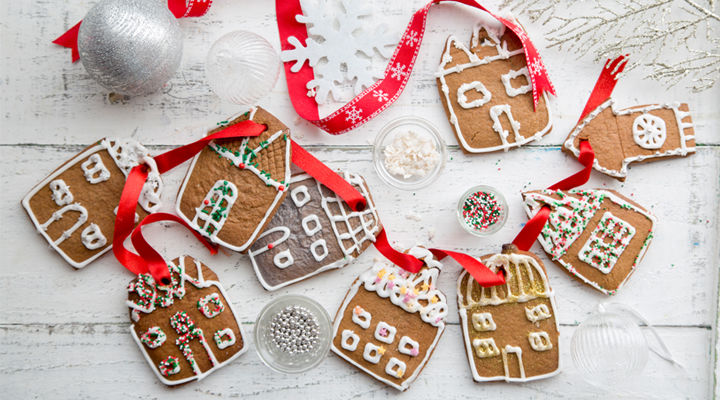 RECIPE OVERVIEW
If you don't feel up to taking on a gingerbread house challenge, then these gingerbread house fronts are the perfect alternative, as it's easy to manage individual biscuits. Kids (young and old!) are going to love every stage of this, from making the dough to designing the house fronts, decorating the houses, hanging them on the tree and of course the eating part too. Choose from a whole host of decorating bits and pieces available in store, including sweets, sprinkles and metallic paints. See below for more tips to help you get creative.
2

tsp

Black Treacle

or molasses

1

pinch

Sprinkles

a selection of edible sprinkles, coloured sanding sugar or sweets

2

tsp

SuperValu White Wine Vinegar

100

g

Unsalted Butter

softened
Method
1. Beat the butter and sugar together in a food mixer until smooth and creamy. Beat in the egg, followed by the treacle, until well blended. Add the vinegar, spices, baking soda and salt and mix well. Finally, add the flour a bit at a time until well mixed and it comes together into a soft dough.
2. Divide into two pieces and flatten each piece into a disc. Wrap in cling film and refrigerate for at least 1 hour (or the freezer for half the time), until firm. This can be made up to a few days in advance and kept refrigerated (or longer if frozen). In this case, remove the dough from the fridge 30 minutes before rolling to let it soften a little.
3. Preheat the oven to 180°C/gas mark 4.
4. Roll a disc of dough between two large pieces of parchment paper into a 21cm x 30cm rectangle about 3mm thick. Remove the top piece of paper and slide the bottom one with the dough onto a large baking sheet. Trim the edges of the dough to neaten to the required size, reserving the trimmings. Cut the rectangle into nine 7cm x 10cm rectangles. Pull them apart on the paper to leave space between them for spreading. Pop them back in the fridge for a few minutes if the dough is becoming too soft to handle. Repeat with the second ball of dough.
5. Using a small sharp knife, mark out windows and doors on each piece to make houses, cutting through deep enough to make sure the lines will show up once baked. Trim one end to make a roof and include a chimney if liked. Get creative and mark out brickwork or roof tiles too. Finally, use one end of a straw to stamp out a hole in the top of each one. Re-roll any trimmings to make a couple more biscuits. Bake for 8 to 10 minutes, until golden and just firm to the touch.
6. Remove the trays from the oven and leave to cool, then transfer to a cooling rack once the houses are firm and cool enough to handle.
7. Once completely cool, gather all of your bits and pieces for decorating. Beat the royal icing with 4 teaspoons of water in a medium bowl for a few minutes, until smooth. Spoon into a disposable piping bag and cut a tiny bit off the tip to allow it to flow in a thin stream. Use this as the glue for your decorations as well as simply piping it for nice trims and details. Set the houses aside until the icing has set firm.
8. Finish by threading string or ribbon through the holes. Tie and hang them from a Christmas tree or bare branches set in a vase and enjoy.
Tips:
Use Christmas tree, snowflakes, star and/or gingerbread man cookie cutters to add to the festive village scene if liked.
Once cooked, embellish the house fronts with silver or gold metallic food paint using the craft brush packs.
For a more simple, frosted finish to the house fronts, dust with icing sugar and rub it in with clean fingertips.
Add any of the ProGel food colours to the royal icing if liked.
*Chill for 30 minutes
Be the first to add a review.