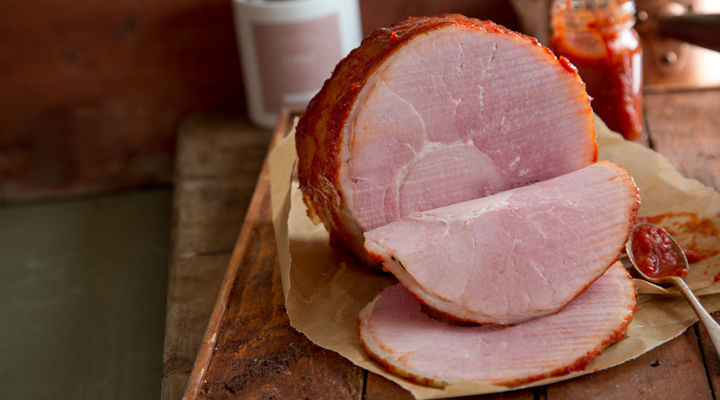 RECIPE OVERVIEW
This simple tomato-based glaze is perfect with ham or bacon. You can turn up the heat by adding more chilli, but always start with less chilli - you can add more but you can't take it away!
1

-

Red Chilli

deseeded and chopped

1

-

SuperValu Carrot

chopped

1.6

kg

SuperValu Quality Irish Ham Fillet

2

tbsp

SuperValu Smoked Paprika
For the Glaze
0.5

-

Red Chilli

deseeded and sliced

4

tbsp

SuperValu Brown Sugar

2

tbsp

SuperValu Smoked Paprika

200

ml

SuperValu Tomato Passata
For the Spinach Mash
60

ml

SuperValu Buttermilk

6

-

SuperValu Rooster Potatoes

peeled
Method
First weigh your ham fillet to calculate the cooking time - it will need 20 minutes per 450g. Line a roasting tray with tin foil. 
Place the ham, onion, carrot, chilli and smoked paprika in a large pan and cover with cold water. Bring to the boil, then reduce to a gentle simmer and cook for 20 minutes per 450g, until the meat is cooked through. A 1.6kg ham fillet will take 1 hour 10 minutes to cook. Remove the ham from the saucepan and place in the lined roasting tray.
Preheat the oven to 180oC/gas mark 4.
Meanwhile, to make the glaze, place the tomato passata, chilli, brown sugar, cider vinegar, smoked paprika and mustard in a small saucepan and bring to a simmer. Allow to reduce by one-third, then set aside.
To make the spinach mash, place the potatoes in a large saucepan and cover with cold salted water. Bring to the boil, then reduce the heat and simmer for 15 to 20 minutes, until completely tender. Drain in a colander and return to the saucepan. Add the butter and buttermilk and mash until smooth with a potato masher. Add the spinach and season well with salt and pepper.
Spread the tomato glaze over the ham with a spoon, then cook in the oven for 20 to 25 minutes, until golden brown. Remove from the oven and rest for 5 to 10 minutes, covered in a foil tent, before carving. Serve with the spinach mash and extra drizzle of the tomato glaze.
Be the first to add a review.