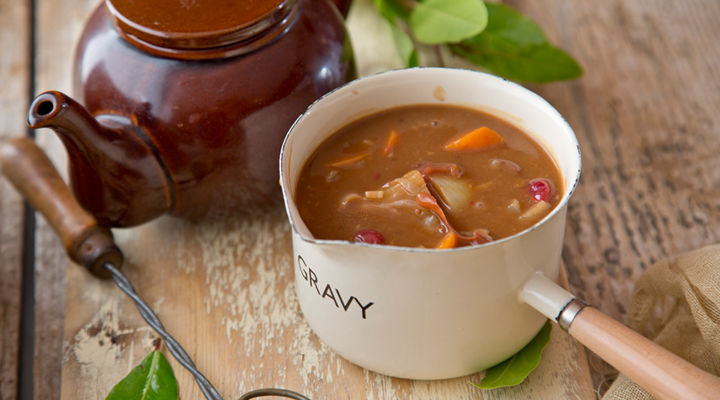 RECIPE OVERVIEW
This delicious gravy can be served perfectly over your turkey dinners.
750

ml

Chicken Stock Cube

1

drop

SuperValu Signature Tastes Duck/Goose Fat 320g

(optional)

2

-

Turkey Giblets

roughly chopped
Method
1. Put the roasting tray from your turkey on the hob across a couple burners and chuck out any burnt bits. As it sizzles, fry off the chopped onions, carrots, giblets and bay leaves for about 5 minutes, until the veg have softened and browned a bit, then add the flour. Stir this in quickly and cook for a couple minutes, adding a splash of goose fat if necessary to stop it from burning. Pour in the wine and let it simmer on a hard boil until it has reduced by two-thirds. Now add the stock and a pinch of salt and pepper and reduce again, still at a hard boil, for about 5 minutes.
2. When your gravy looks to be about the right consistency, stir in the sugar, jelly and a few splashes of vinegar and brandy to taste: you want it to be rich and sweet with some sharpness and definitely a little boozy. Strain into a bowl through a fine-mesh sieve, really pushing the solids so that they give up all their flavour. I always serve my gravy in a small teapot as it keeps it warm and pours well, but you can of course use a gravy boat too.
Be the first to add a review.