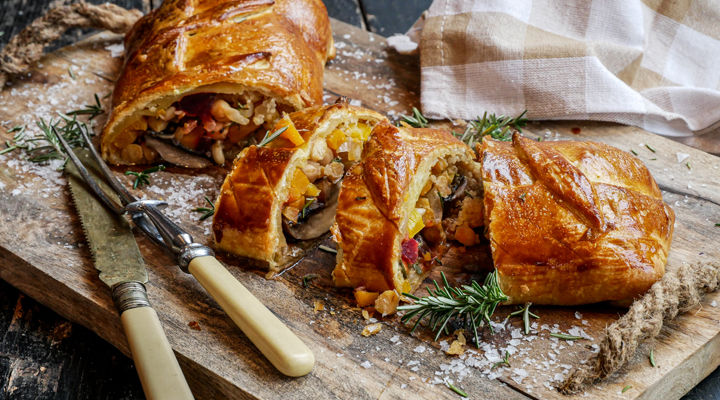 2

medium

Beetroot

cooked and diced

100

g

Butternut Squash

, cooked and diced

2

tins

Chickpeas in Water

, drained

1

medium

Egg Wash

made of 1 egg yolk with 1 tbsp. milk

1

pinch

Salt and Pepper

, to season

1

medium

Yellow Pepper

or red, chopped
Method
Preheat the oven to 200°C
Add the cooked couscous and butternut squash into a bowl with the onions, peppers, beetroot, chickpeas, herbs and pine nuts, mustard and season with salt and pepper. stir to combine the vegetables and flavour and set aside.
Next, in a sauté pan, over medium/high heat, drizzle some olive oil and add the portobello mushrooms. Cook for 2 minutes without moving then flip the mushrooms and continue to cook for a further minute just to colour them. Remove from the heat on a chopping board and trim the edges of each mushroom to fit on the pastry later on.
Roll out the pastry on a lightly floured surface, cut out 20 x 30cm rectangular. Brush the puff pastry with egg wash and add 3 tbsp. of the quinoa mixture on the puff pastry.
Add the mushrooms over the top with a generous amount of the couscous mixture.
Fold over the mixture to encase the mushroom and couscous filling and seal the pastry. Decorate with leftover puff pastry and place in the oven for 20–22 minutes until golden and crisp.
Serve immediately.
Be the first to add a review.