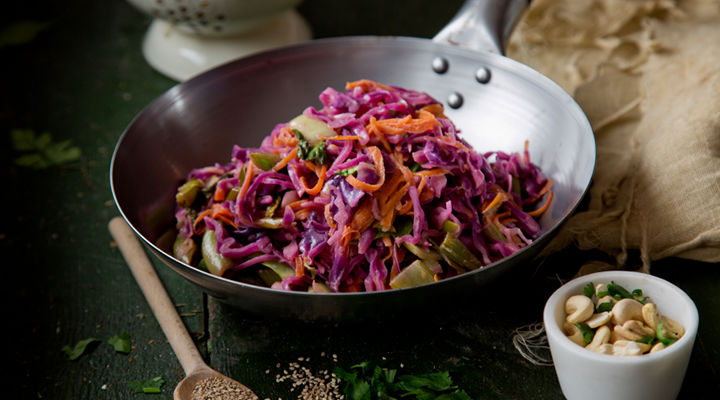 RECIPE OVERVIEW
This tastes great the next day for lunch as a salad, so don't worry about having leftovers. Replace the carrot and cabbage with mushrooms and peppers if you prefer. This dish is cooked on a high heat, so you need to have everything prepped before you start cooking and keep stirring as it cooks.
Method
1. Cook the noodles as per the instructions on the packet. Drain and rinse once cooked.
2. Add the oil to a wok or large pot and put on a high heat. Add the spring onions, garlic, chilli and ginger and cook for 3 minutes, stirring regularly. Add the cabbage, carrot, pak choi and sugar snaps and cook for 2 minutes, stirring regularly.
3. Place all the sauce ingredients in a small bowl and mix together with a fork, then add to the pan along with the cooked noodles and stir well. Cook for a couple minutes, until everything is heated through.
4. Divide the noodle stir-fry between four bowls. Garnish with toasted cashew nuts or peanuts, fresh coriander leaves and a sprinkle of sesame seeds.
Be the first to add a review.