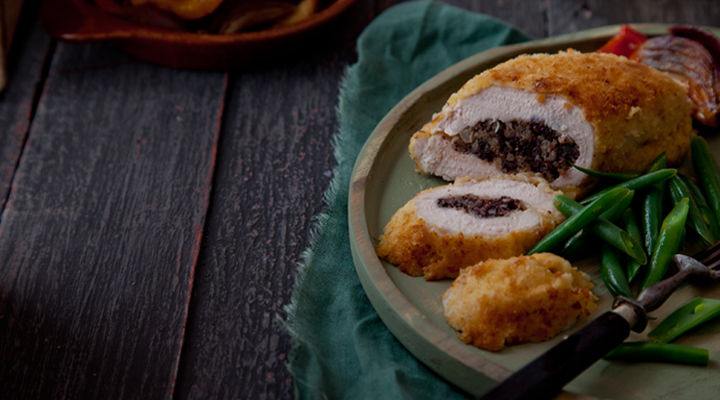 RECIPE OVERVIEW
These stuffed chicken fillets are lovely served with green beans and roasted red onions and peppers.
100

g

SuperValu Fresh Breadcrumbs
For the Stuffing
150

g

Black Pudding

finely diced

60

g

SuperValu Fresh Breadcrumbs
Method
Preheat the oven to 200oC/gas mark 6. Line a baking tray with non-stick baking paper.
To make the stuffing, heat the butter and olive oil in a frying pan set over a medium heat. When the butter has melted, add the onion and cook for about 5 minutes, until soft. Add the black pudding and cook for 5 minutes more, stirring frequently, until the black pudding is cooked through. Remove from the heat and season with a pinch of salt and pepper and allow to cool slightly, then stir in the beaten egg and breadcrumbs until well combined.
To prepare the chicken, first remove the small fillets from the underside if necessary. (You could bread them and fry them up separately as goujons.) To butterfly the chicken, place each fillet flat on a cutting board. Using a sharp knife and with your hand placed flat on top of the fillet, slice each fillet in half horizontally from side to side, but don't cut the whole way through. You want to open the fillet out like a book.
Place one-quarter of the stuffing on one side of each fillet, spreading it out completely to cover the bottom half of the fillet. Cover with the other half of the chicken fillet and squeeze the fillet together to help it hold its shape.
Place the flour in a shallow bowl or plate and season with salt and pepper. Place the beaten egg in a second shallow bowl and the breadcrumbs in a third shallow bowl. Dredge each fillet in the flour, shaking off any excess, then dip into the egg, again shaking off any excess. Lastly, place the fillet into the breadcrumbs and toss gently until it's completely and evenly coated.
Heat the butter and oil in a frying pan set over a medium heat. When the butter has melted, place the breaded fillets into the pan and cook for 1 to 2 minutes on each side, until they are starting to turn golden.
Carefully transfer the fillets to a baking tray and cook in the oven for 25 minutes, until the chicken and stuffing are piping hot and completely cooked through.