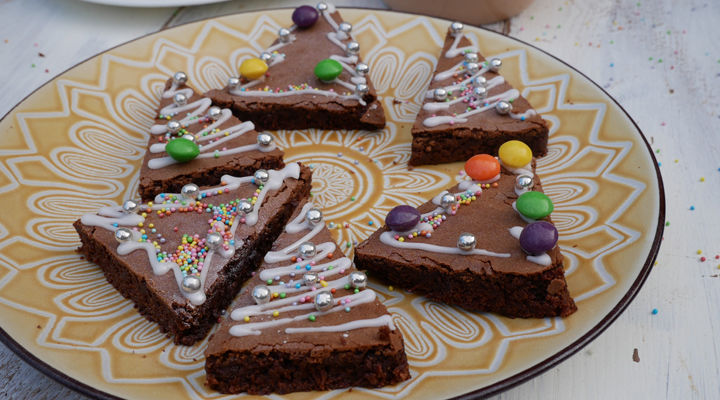 3

tbsp

Silver Crisp Pearls

or other sweets to decorate
Method
Preheat the oven to 180°C. Line a baking tray (approx 22 x 22cm (9 x 9 inch) with greaseproof paper.
Next, Melt the chocolate in a heatproof bowl set over a saucepan of simmering water, making sure the bottom of the bowl does not touch the water. Once nearly melted, add the butter and stir until combined. Remove from the heat and set aside to cool for a few minutes.
To continue, Place the sugar and eggs in a large bowl and beat using an electric whisk until pale and fluffy.
Very carefully, fold the chocolate in the the egg mixture, then sift in the flour. Mix with spatula until no pockets of flour are left.
Pour the mixture in the prepared baking tray and spread into an even layer.
Bake for 18-20 minutes until just soft to the touch.  Remove from the oven and set aside until fully cooled.
Next prepare some royal icing in a bowl following the package instruction.
Trim the edge of the brownie to obtain a neat rectangle and cut out triangles from it.
Transfer the triangles on a board and decorate with the royal icing and a few sprinkle or sweets. Set aside to set and store in a tight container until ready to eat.
Be the first to add a review.