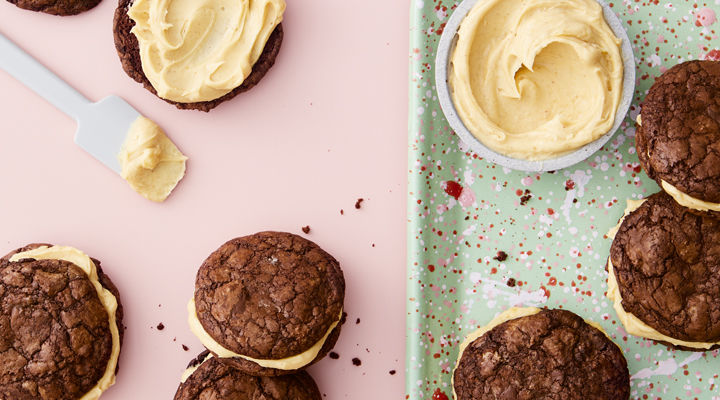 RECIPE OVERVIEW
These cookies are a delicious afternoon treat for kids and adults! Choose your own filling to get the kids involved. Peanut butter can be replaced with SuperValu Hazelnut Spread. 


190

g

SuperValu Butter

(40g + 150g)

150

g

SuperValu Caster Sugar

200

g

SuperValu Dark Chocolate

chopped

80

g

SuperValu Icing Sugar

50

g

SuperValu Plain Flour

150

g

SuperValu Signature Tastes Milk Chocolate

chopped

50

g

SuperValu Smooth Peanut Butter
Method
1. Preheat oven to 180˚C. In a bowl, over a saucepan of simmering water, melt the dark chocolate and the 40g of butter. Set aside.  
2. Using a food mixer, place the eggs and caster in the bowl and whisk for 8-10 minutes until pale and creamy. Sieve in the flour and baking powder and gently fold.  
3. Stir through the melted chocolate mixture and remaining chocolate and allow to settle for 15 minutes, covered with cling film. 
4. Now prepare the buttercream: In a bowl, combine the icing sugar, 150g butter, and peanut butter until smooth. Beat well for a few minutes until pale and light. Cover with cling film and set aside at room temperature until needed.  
5. Line two baking trays with parchment paper. Using two tablespoons, spoon on the chocolate mixture with a 3cm space in between. 
6. Bake for 8-10 minutes or until puffed and cracked. Remove from the oven and allow to cool completely on trays before lifting. 
7. Spread half the cookies with the peanut butter cream and sandwich with the remaining cookies. 

Be the first to add a review.