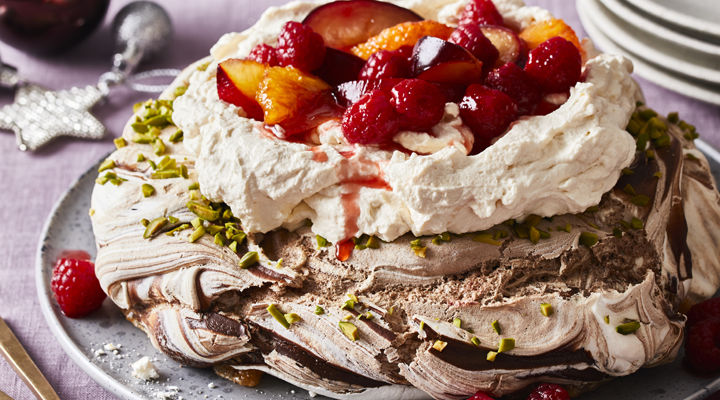 RECIPE OVERVIEW
By Kevin Dundon "These will keep well in a tight container if prepared 3-4 days in advance. You can build a small tower of pavlova by doing three different sizes and stacking them with the cream and caramelised fruit just before serving!"
2

tbsp

Cocoa Powder

to serve
Method
Method
Preheat the oven to 100°C-110˚C. Line a large baking tray with non-stick baking parchment. 
In a small bowl over a saucepan of simmering water, melt the chocolate with the hazelnut spread. Remove from the heat and keep aside.
Next, using a mixer with a whisk attachment, place the egg whites in the bowl. Whisk on a slow speed for 1 minute, then increase the speed and whisk until the egg whites form stiff peaks, adding the sugar 1 tablespoon at a time. Continue whisking until the meringue becomes very stiff and glossy. Whisk in the cornflour. Remove from the mixing machine and fold in, without over stirring, the melted chocolate mixture.
Spoon the meringue into 6 nests on to the baking sheet. Sprinkle with the pistachio and Place in the oven for 1 - 1½ hours, then turn off the oven and leave the door ajar. Leave the pavlova to cool inside completely. 

In the meantime, heat a sauté pan over medium heat with the honey and lemon juice. Bring to simmer until it's golden caramel coloured. Then, add the plums and cook for 30 seconds until the caramel softens back. Add the orange segment and raspberries and cook for a further minute. Remove from the heat, add the cinnamon and set aside to cool.

Whip the cream to soft peaks. Add the mascarpone and butterscotch sauce to taste.  
Spoon the cream into the centre of the pavlova. Add the fruits and dust with some cocoa powder. Serve immediately. 
Be the first to add a review.