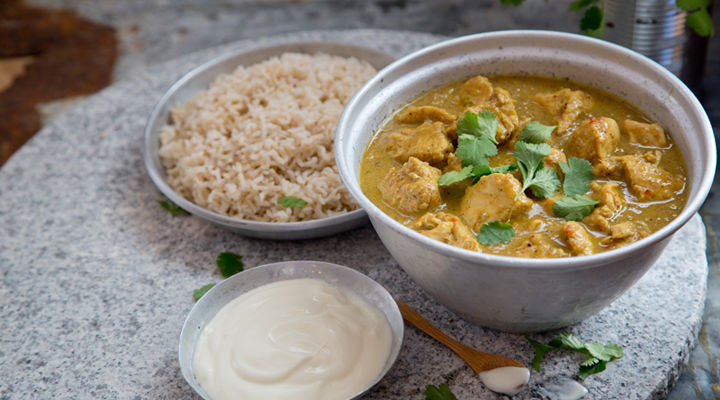 RECIPE OVERVIEW
Don't rush this dish - patience is key. Allow it to simmer on a low heat and let the flavours combine for an amazing flavour.
For the Chicken Marinade
3

-

Chicken Breast

chopped

1

tbsp

SuperValu Extra Virgin Olive Oil
For the Sauce
2

-

Onions

peeled and chopped

1

handfull

SuperValu Fresh Coriander

finely chopped

2

tbsp

SuperValu Fresh Ginger

freshly grated

0.5

small

SuperValu Green Chilli

0.5

tsp

Supervalu Ground Cumin
Method
1. Marinate the chicken with the olive oil, some garlic, curry powder, salt and pepper for at least 2 hours.
2. When the chicken is marinated, start by placing the garlic, chillies, onion and 1 Tbsp. olive oil in a pan and cook for 2-3 minutes until the onions begin to brown
3. Add in the chicken and cook thoroughly, roughly 10 minutes.
4. Next, make the sauce: place the onions, garlic, chillies and a little water in a blender and blitz to a creamy texture.
5. Measure out the spices (curry powder through cumin) into a small bowl.
6. In a large saucepan heat the coconut oil over medium heat. Next, add the pureed onion mixture and cook for a 2-3 minutes, stirring constantly.
7. Add the ginger, coconut cream, yogurt, pre-measured spices, and honey and mix together.
8. Turn the heat down to low and simmer 35-40 minutes, mixing regularly, until the sauce has reduced.
*Serve with cauliflower rice or regular brown or white rice if you prefer 
Be the first to add a review.