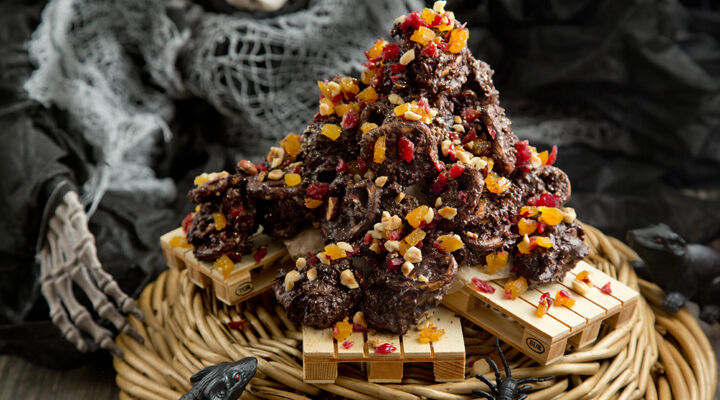 RECIPE OVERVIEW
These little bites are fun to make and are even ideal for younger kids, as the messier they look, the better so that they look like bonfires!

100

g

Dark Chocolate

broken into pieces

3

-

Dried Apricots

finely chopped

1

tbsp

Dried Cranberries

or goji berries, finely chopped

1

tbsp

Hazelnuts

or green pistachios, finely chopped

100

g

Milk Chocolate

broken into pieces

25

g

SuperValu Goodness Flaked Almonds

toasted
Method
This recipe will make 16 bonfire bites.
Line a large tray with non-stick baking paper and set aside.
Melt the dark and milk chocolate in a large bowl set over a pan of simmering water or in the microwave, stirring regularly. Add the cooked quinoa, pretzels and almonds and stir until evenly coated.
Working quickly before the mixture begins to set, spoon it out onto the tray into 16 golf ball-sized mounds. Try to pile the pretzels up to resemble bonfire wood. Immediately sprinkle over the apricots, cranberries and nuts.
Pop into the fridge for at least 15 minutes, until set. These can be prepared up to a week in advance and kept refrigerated. Once they have set, use a small paintbrush to brush on the edible paint.
Tip: Omit the nuts in the case of allergies, adding more pretzels in place of the almonds. For older kids and adults, create the ultimate bonfire effect by adding a tiny sprinkling of dried crushed chilli flakes on top too.

Be the first to add a review.