November / December
Fridge and freezer Get Aheads
Now is the time to get baking things that can be chilled in the fridge, or frozen. Homemade mince pies last up to the two weeks in the fridge, longer if a little alcohol has been included. You can freeze them as well, ready to be thawed and warmed through in the oven. Your homemade pastry is good in the fridge for up to two days, and for months if frozen. 
About two or three weeks before Christmas, I like to stock the fridge with homemade condiments such as salted caramel, brandy butter and fruit chutneys. My Frosted Christmas Pudding Bombe and Cranberry Compote sits nicely in the freezer, so I make it in early December for a fuss-free dessert on the big day. 
Finally, I make my berry compotes and custard just a few days in advance.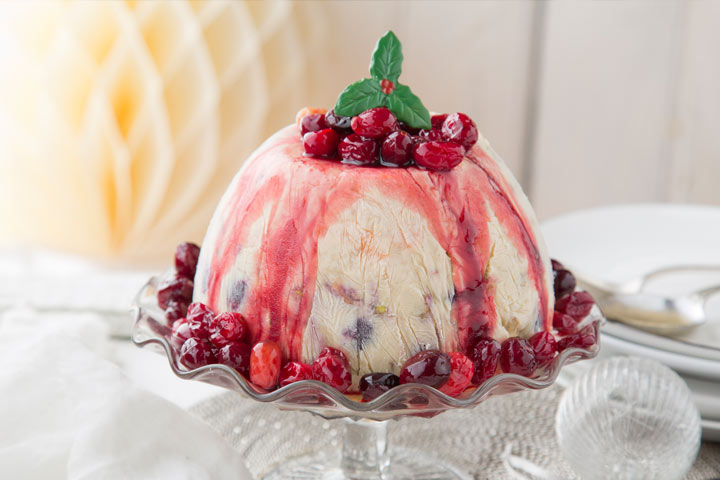 Deck the halls
I really look forward to putting up the Christmas decorations. You won't be surprised to hear that my Christmas styling tips centre around food.  It's a great idea to stock up on festive spices like star anise, cinnamon, nutmeg and allspice berries, and gather them in fragrant clusters around the house.
Decorate your green wreaths with fruits like physalis, kumquats and clementines for a lovely luxurious look. Make a garland by stringing up cranberries and dried citrus fruit slices, or use oranges studded with cloves for a wonderful hanging decoration.  And don't forget to scatter bowls of whole nuts like walnuts, hazelnuts and pecans around the place, perfect nibbles with those sneaky mulled wines!
Gifts to remember
I always think homemade treats make for great gifts.  My Christmas Chocolate Bark and Festive Truffles are ideal at this time of year. They keep for a few days in the fridge, so friends and family can enjoy your treat at their leisure.
TIP: Making edible gifts is a great activity to keep the kids occupied, always a good idea when you're busy organising Christmas. 
Another recipe that always appeals to kids is my Hanging Gingerbread Houses. Once decorated, they make wonderful festive displays around the house.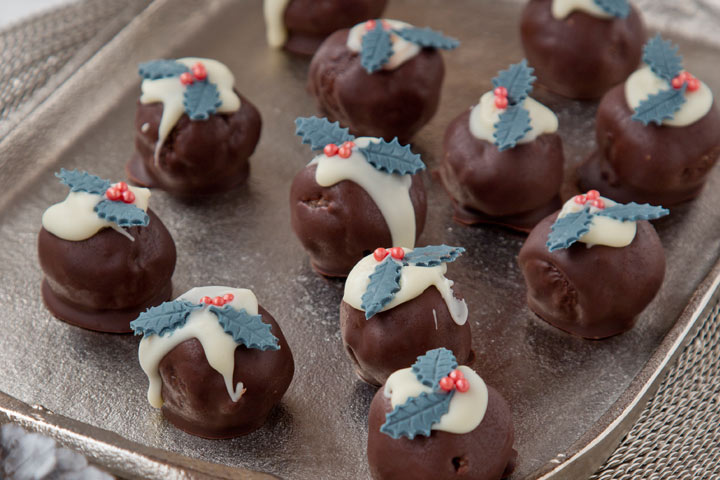 Final festive flourishes
Now that you have all the Christmas baking organised, all your sweet treats ask is to be beautifully presented with some final flourishes. I like to stock up on pretty, edible decorations like physalis, pomegranate, kumquats and fresh mint for this. Strings of red currants add an instant festive feel to finished dishes. And remember to keep scented cinnamon and snowy icing sugar at hand, to magically dust over all your baked goodies for instant dazzle. 
Finally, don't forget to get a pan of mulled wine on the go. The intoxicating smell of citrus and spices will waft Christmas cheer around your home, before anyone even takes a drink! Cheers to you. Now, relax and enjoy the wonderful Christmas you deserve.