Who doesn't like a good pancake?  They're an ideal snack; they can be sweet or savoury, thick or thin, and eaten hot or cold. As Shrove Tuesday or Pancake Day as it's known in my house approaches, we devise our new recipes to have a day of batter feasting chez nous. Our favourite is the American pancakes (see recipe for American Pancakes with Fruit Compote on SuperValu.ie), perfect for brunch or lunch, or a tea time treat. I like to let the children get creative in their decoration, and toppings such as chocolate spread and banana, lemon curd with mascarpone, blueberries with mascarpone, berries with a chocolate drizzle, to the more classic lemon and sugar are all on the table. 
For the more traditional crepes, or thin pancakes, I like to stick to the following recipe to ensure a perfect pancake every time (though the first pancake is usually the one that doesn't get served!).    
Before starting I take the buttermilk/milk and eggs from the fridge and allow them to come to room temperature – I'm not saying this is a hard fast rule, but for me it makes a better batter. I prefer to use buttermilk for American pancakes as it gives them a light fluffy centre, and either cow's milk or almond milk for crepes.
Once you have incorporated all the ingredients to make your batter, let it rest for a little while, about 10 minutes if possible, if you rest for too long it can make the batter too dense.  
When making American or thicker style Pancakes I like to separate the eggs. Whisk in the yolks first, and then whip together the whites before folding them in at the very last second gives you more fluffiness.
I use sunflower oil in my recipes as it's flavourless, but you can use butter for a more nutty flavour if you prefer.
Make sure the pan is hot before adding the batter, and swirl on the pan to spread the mixture.
When your pancake is browned on the bottom and you see bubbles coming to the surface, give the pan a shake to make sure the pancake is loose. If not, use a spatula to loosen it. When it is moving freely, it's ready to toss, or flip with a spatula or fish slice if you're afraid of it sticking to the kitchen ceiling!
Once flipped, reduce the heat to prevent the pancake from getting too brown on the outside while the inside may still be raw.
Stack pancakes with a layer of parchment paper to prevent them from sticking together.   
There are many different variations on pancakes from around the world, here's a taste of my favourites, some are gluten free too which makes them an all-around winner!
Here are few of my alternative options:  
1. Smoked Salmon & Cashel Blue Cheese Pancake Parcels - these are lovely pancakes stuffed with cream cheese, crumbled blue cheese and smoked salmon, a great tea time treat. 
2. Korean Style Seafood Pancakes – a lovely lunchtime treat, no milk in this recipe means its dairy free too!   Spring onions and prawns are mixed into the batter, served with a side of soy & rice vinegar dressing. 
3. Blackforest Crepes – Chocolate flavoured crepes, with kirsch flavoured cream and black cherries, an adults' delight.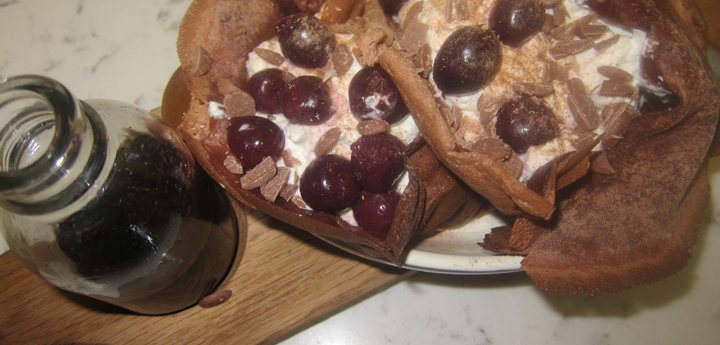 4. Chocolate & Strawberry Sandwich Pancake – I froze some chocolate spread, spread into discs on parchment paper, then cook one pancake, flip it, place the chocolate and sliced strawberries on top, then I ladled over some batter, flipped and served.  This is one of the children's favourites, for obvious reasons!  
Here are a couple of my healthier options, 
1. Banana & Almond Pancakes - Gluten Free! This recipe has no flour in it at all, the banana is what creates the texture, mixed with the ground chia seeds. A nice alternative for banana lovers, but a little fragile. 
2. Lemon & Goji Berry Pancakes – the health benefits of Goji are immense, slightly bitter, but the sweet batter compliments their flavour.  I serve these with some lemon syrup.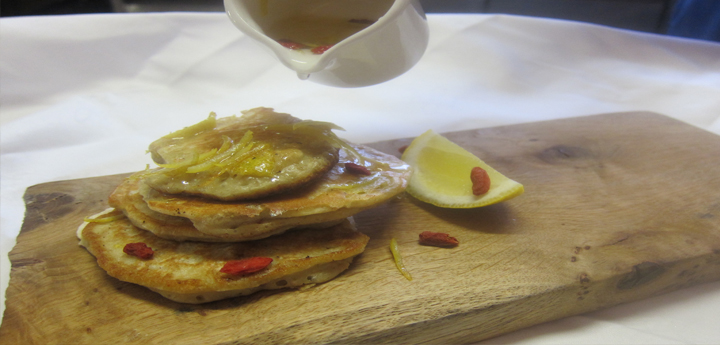 3. Spiced Sorghum (or Gluten Free Flour) Pancakes with smoked Chicken – this flour might not be one your are used to seeing, its texture is close to wheat flour, it makes the basis for decent gluten free bread.  Use Dove Farm flour as an alternative in this recipe. These spiced pancakes have a pinch of garam marsala and tumeric to add a new flavour to the pancake, a finely chopped chilli could be added for those who like them hot…! 
4. Huevos Rancheros Pancakes – Breakfast, lunch, supper, this is my idea of the perfect snack, fresh salsa, slices of ham and a lovely soft fried egg on top – what's not to love?  
So whatever your choice, remember that although pancakes may not be the healthiest option, they can be made healthier, and one of my life mottos is "everything in moderation", everyone deserves a little treat once in a while.
            KEVIN.