Every home has leftovers after Christmas but what do you do with them? In my home it's a case of less waste and more taste.
We try to use everything, down to the last crumbs of Christmas pudding, which I mix with vanilla ice cream and freeze, so I can have a hit of festive flavour whenever I desire!
To use your leftovers effectively, you need to make sure you prepare them properly.
Carve any leftover turkey into slices, then remove any remaining meat from the carcass, making sure to pop them into properly sealed containers or airtight freezer bags within two hours of serving. Once all the meat has been removed, you can either freeze the carcass for future use, or pop it into a large pot of water with some celery, carrots, onions and seasoning, with lots and lots of water. This will make the most delicious stock that you can freeze for future use.
We've got some great recipes for leftover turkey. Turkey cacciatore and turkey and vegetable biryani, both with 'how to' videos, to help you get them right, and turkey, leek and mushroom pie. We nearly always have cooked ham in the fridge, and there's always a good chunk of ham left after Christmas dinner. I love a decent ham sandwich on Christmas evening, with pickles, cheese and chutney. Sometimes I even toss a little butter on the pan and fry it until the cheese oozes out the sides. And try adding ham to a frittata - simple, tasty and filling, the perfect brunch after a heavy night!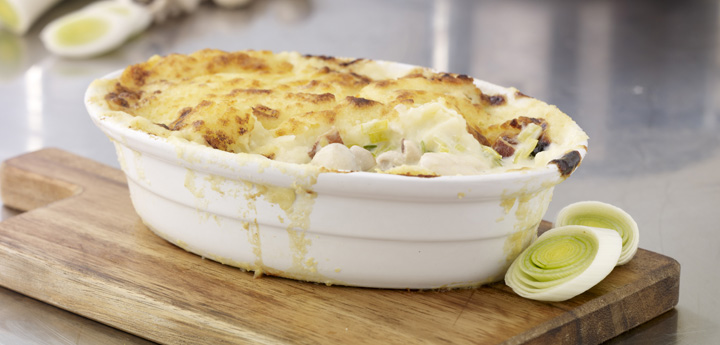 For the vegetables and stuffings, store any leftovers in air-tight containers in the fridge. A very simple way to use leftover roasties and vegetables is to make bubble and squeak. Just crush your leftover potatoes, mix with some chopped veg then mould into patties. These can be stored for a few days in the fridge, just give them a light dusting with flour before frying them in a hot pan. Pop them into the oven for a few minutes to ensure they're fully cooked through and golden brown. They're fantastic served with a simple side salad or with sliced ham and a nice dollop of homemade chutney.
Nearly every household has a cheeseboard at Christmas, and we're no different – and there's always some leftover. A great leftover cheese recipe is baked goats cheese and salad, which is light and full of flavour. Perfect for the days after Christmas, when you want a break from the big heavy meals. Another great leftover cheese recipe is creamy potato and Cashel Blue soup, a big bowl of warmth, perfect when served with brown bread.
To use leftover crumbly cheese, mix it with an equal amount of soft butter, add some freshly ground black pepper and some finely chopped herbs that might be lurking around, spoon it into some parchment paper, then roll like a sausage and freeze. Great with steaks, pasta or on baked potatoes, when this lovely flavoured butter is needed you can just cut a few slices off and work away!
Kevin
Here are the recipes... now get cooking!