I've always loved the time around Halloween. As a child, it was because there was the long-awaited mid-term break.
Being the second youngest in a huge household, it meant I could get up early to watch cartoons without my older siblings dictating what was watched on the TV, since they didn't rise till at least 11 o'clock. And while the rest of the house was asleep, I got to spend a lot of time with mom in the kitchen.
Most people dread it, but I absolutely love the end of autumn. I think it's because it's the time of year when I've become resigned to the fact that the nights are closing in. August and September are well and truly over and I'm no longer holding out hope for an Indian summer. I can start to embrace the thoughts of comfort food, the warm glow of the fire and a cup of tea with something yummy to munch on when curling up with a good book at the end of the day.
This time of year is a very homely time before the madness of Christmas is upon us, and it's also time that you can spend some really special quality time with the children in the kitchen. Especially during the mid-term break, when there is a week-long lull in the otherwise hectic pattern of school runs, ballet, rugby and piano lessons.
I am going to share two recipes with you that are perfect for this time of year and I'll be giving the quantities in cup measures as well as grams, because younger children find it much easier to measure in cups and can get more actively involved this way.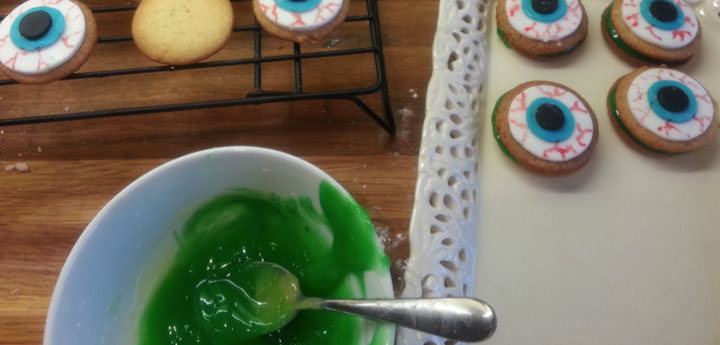 Fondant sugar cookies are as fabulous to make as they are to eat. They can be rolled out and cut to any shape or theme depending on the time of year, and individually decorated and wrapped they make a great gift – if they last that long. I'll show you two ideas for Halloween decorating...oozy slimy eyeballs for the older more able children in the house and wrapped mummies that even the littlest hands will have great fun making. Made in advance they're perfect for having ready to decorate at a Halloween party where the children can go nuts icing them, a fun activity after trick or treating!
The second recipe is for meringue ghosts that can be made well in advance and stored in an airtight container. They're scrummy on their own, or made slightly smaller to be popped on top of cakes or cupcakes to make spooky ghost-themed cakes. Of course these meringues can be used at any time of year with whipped cream to jazz up some seasonal fruit. And bagged up in pretty cellophane bags with ribbon they make a beautiful gift too.
So, give them a go. They're sure to be firm favourites that you'll love to bake in spring, summer, autumn or winter!
Maryanne
Here are the recipes... so get cooking!