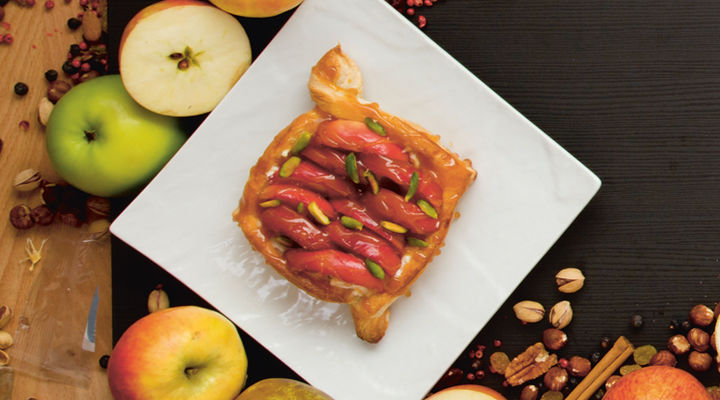 RECIPE OVERVIEW
A beautiful dessert that will look like it came from a French patissier.
50

ml

Brandy 350ml

or rum

1

-

Fresh Egg

yolk, lightly beaten with a few drops of water

1

handfull

Plain Flour

for rolling

375

g

Puff Pastry

(all-butter)

50

g

SuperValu Goodness Pistachio Nuts

4

-

SuperValu Pink Lady Apples
Method
1. Preheat the oven to 220°C/gas mark 7. Line two baking sheets with non-stick baking paper.
2. Roll out the pastry on a lightly floured surface into a 30cm square. Using a sharp knife or pizza cutter, slice the pastry down the middle vertically and horizontally to make four 15cm squares. Go a step further now and cut a smaller square within each of these, leaving two diagonally opposite corners attached. I suggest cutting 2cm in from the edge so that you end up with what looks like four picture frames.
3. Transfer the pastry onto the lined baking sheets. Using a pastry brush, lightly brush some egg yolk over the entire surface of the squares, but take care not to brush any on the cut edges.
4. Carefully lift the free corner of a frame, fold it and place it on the opposite corner of its inner canvas. Take the corner of the frame opposite to the one you just folded and fold it over to reach the opposite edge of the inner square. This creates a slightly raised area around the fruit to keep it in. See the finished result in the photo to the left.
5. Bake for 20 to 30 minutes, until the pastry has puffed up and turned a deep golden colour. Turn the oven off, prop the oven door partly open and let the pastry cool completely in the oven to allow the pastry to dry out a bit.
6. While the pastry is cooling, prepare the apples. Cut the apples into eight segments each and remove the core and seeds, then toss with the lemon juice.
7. Melt the butter, sugar and rum in a heavy-bottomed pan set over a medium-high heat. When the sugar has dissolved, add the apple slices and cook until golden and tender but still a little firm. Remove the apple slices with a slotted spoon, then continue cooking the caramel, if necessary, until it becomes dark brown.
8. Soften the mascarpone by whisking it with a fork and dollop some inside each of the four pastry bases you baked. If the centres of the squares are too high, you can remove a few layers of the pastry to create space for the filling. Add the apple slices, drizzle over some caramel and top with the pistachios to serve.
Be the first to add a review.