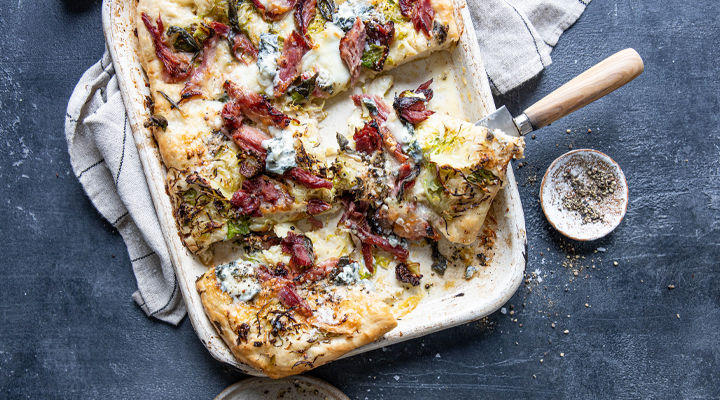 For the Toppings
125

g

Signature Tastes Irish farmhouse Cashel blue cheese
Method
First make the base; whisk the yeast with the sugar and 300ml warm water in a bowl.  Leave to sit for at least 15 minutes until frothy.  Mix with the flour and salt, then leave in a warm place covered for at least an hour.
I'm sure there's alarm bells going off right now about how wet the dough is, it is a wet mix, but trust the process.  You can leave it longer if you have time, folding the dough over itself with a slightly damp hand.
Spread the oil onto a rimmed roasting tray that is at least 30cm x 20cm. Turn the dough out onto this and using wet hands, create indents in the surface using your fingers and spread the dough to the edges of the tray. Heat the oven to 200°C, mix the butter with the garlic and a little salt.
Spoon and smear the base with the garlic butter sauce on the base.
Scatter the sprouts across the base. Shred the ham hock over along with the mozzarella and crumble over the blue cheese.
Top with the sage leaves, a little sea salt and lots of black pepper.
Pop into the oven for 12 – 15 minutes until golden and bubbly.
Be the first to add a review.